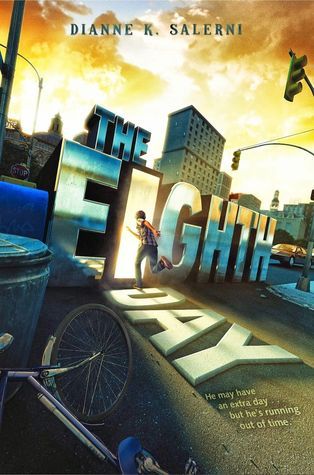 Presenting
Eighth Day #1 The Eighth Day by Dianne K. Salerni
.
Here is the summary of the book:
In this riveting fantasy adventure, thirteen-year-old Jax Aubrey discovers a secret eighth day with roots tracing back to Arthurian legend. Fans of Percy Jackson will devour this first book in a new series that combines exciting magic and pulse-pounding suspense.

When Jax wakes up to a world without any people in it, he assumes it's the zombie apocalypse. But when he runs into his eighteen-year-old guardian, Riley Pendare, he learns that he's really in the eighth day—an extra day sandwiched between Wednesday and Thursday. Some people—like Jax and Riley—are Transitioners, able to live in all eight days, while others, including Evangeline, the elusive teenage girl who's been hiding in the house next door, exist only on this special day.

And there's a reason Evangeline's hiding. She is a descendant of the powerful wizard Merlin, and there is a group of people who wish to use her in order to destroy the normal seven-day world and all who live in it. Torn between protecting his new friend and saving the entire human race from complete destruction, Jax is faced with an impossible choice. Even with an eighth day, time is running out.

Stay tuned for The Inquisitor's Mark, the spellbinding second novel in the Eighth Day series.
Grunsday. A magical day wedges in between Thursday and Friday..... COOL.... VERY COOL.... Kudos to Dianne K Salerni for creating such an innovative plot albeit a middle grade story.... but a thrilling read none the less. Couple with a 3d-esque cover and good writing and we have a winner.
Jax moves in with his 18 year old guardian Riley after the death of his parents and discovers a secret that changes the very nature of his lifestyle and his perspective of those around him. There is more to those around him and his own lineage and he has just barely scratched the surface of it all. Of King Arthur and Merlin and the Lady of the Lake and Morgana..... Jax discovers that magic is very much real and some of it runs in his veins.
May sound like your typical middle grade story but of course it is not. Brownie points to Salerni for concocting such an innovative plot and keeping it interesting and engaging for us readers. Jax is your typical tragedy ridden teen but the dynamics of his relationship with Riley was definitely the focal point to this story. Of course next door ghostly neighbor Evangeline is important to this adventure, trapped in Grunsdays, she brings her own excitement to this story. Very excited to see what happens in the sequel.
"Eighth day of the week and fate of the world hanging in the balance. I RECOMMEND"
Genre : Middle Grade, Fantasy, Mystery
Publisher: Harper Collins
Release Date: 22nd April, 2014
My Copy: publisher and edelweiss
Rate:
5
/5 (It was Amazing)
Buy:
Amazon
|
Book Depository