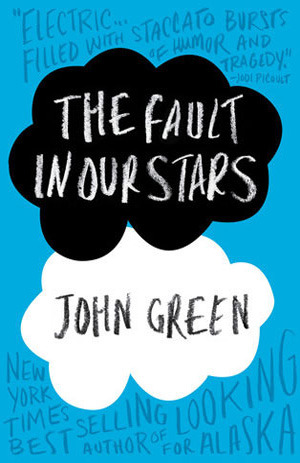 Presenting
The Fault in Our Stars by John Green
.
Here is the summary of the book:
Despite the tumor-shrinking medical miracle that has bought her a few years, Hazel has never been anything but terminal, her final chapter inscribed upon diagnosis. But when a gorgeous plot twist named Augustus Waters suddenly appears at Cancer Kid Support Group, Hazel's story is about to be completely rewritten.
My first John Green book and I am mighty pleased with how the experience turned out for me. Definitely did not expect a YA cancer tragedy story to be funny or even possess an ounce of humor. But this oddball of a perfection had it in leaps and bounds. Green's spellbinding rich narrative is enough to make us dive into its turbulent sea of words. An experience never to be forgotten.
Literally speechless at Green's fantastic creations. You don't expect teenagers to sport an intellectual outlook towards life nor do you expect them to be insight-fully verbose like Hazel & Augustus (or Gus). Such traits tend to make a person squeamish but Green made these two fun to get to know and want to befriend.
Awe-inspiring. Hazel's was a great character. She is headstrong, witty, outspoken, charming and sarcastic. Through the authors pen, Hazel comes fluidly alive. The empathy, the logical workings of her mind and how she chooses to deal with her predicament is a heart felt joy to experience. With Hazel's pessimistic attitude to life, we see the opposite along in the optimistically charismatic Gus. He was so otherworldly. Sweet and Funny, and despite his disability, he just wins over us by simply being himself.
Cancer changes people. It changes the way they function and behave but I loved the way John Green dealt with that issue with his two amazing protagonists. Of course the way that their words flow is enough to cement my statement, with its rich diction and the ingenious way of presentation. A heartbreaking conclusion involving lots and lots of tears, The Fault in Our Stars teaches us the value of life, living through by the moment because 'some infinities are bigger than other infinities'.... Heart breakingly beautiful, John Green you have made a fan out of me.
"A heart stopping tale of infinities"
Genre : Young Adult, Romance, Contemporary
Publisher: Dutton
Release Date: 10th January, 2012
My Copy: Bought (ebook)
Rate:
5
/5 (It was Amazing)
Buy:
Amazon
|
Book Depository