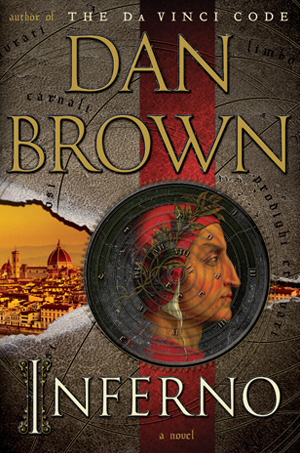 Presenting
Robert Langdon #4 Inferno by Dan Brown
.
Here is the summary of the book:
In his international blockbusters The Da Vinci Code, Angels & Demons, and The Lost Symbol, Dan Brown masterfully fused history, art, codes, and symbols. In this riveting new thriller, Brown returns to his element and has crafted his highest-stakes novel to date.

In the heart of Italy, Harvard professor of symbology Robert Langdon is drawn into a harrowing world centered on one of history's most enduring and mysterious literary masterpieces . . . Dante's Inferno.

Against this backdrop, Langdon battles a chilling adversary and grapples with an ingenious riddle that pulls him into a landscape of classic art, secret passageways, and futuristic science. Drawing from Dante's dark epic poem, Langdon races to find answers and decide whom to trust . . . before the world is irrevocably altered.
Inferno marks the return of author Dan Brown with another Robert Langdon thriller, masterfully created with the mixture of artistic symbolism and scientific learning. Based on as the name suggests on Dante Alighieri's epic poem 'The Divine Comedy' (Inferno, Purgatorio, Paradiso) taking us through the streets of Italy and Istanbul. And into a modern hell we go as Langdon races against time to prevent a trans-humanist movement from coming to fruition with some unique twists and turns and spins to the tale.
Langdon has amnesia. He doesn't know what happened to him. He doesn't know why he is in a Florentine Hospital. Assassin's are after him and he doesn't have a clue as who he had upset to merit such results. Nobody is trustworthy in the state he seems to have found himself in. He in a fit of desperation flees with the beautiful British Doctor to safety. With a clue found on his person and recurring vividly horrifying nightmares are just what he has to solve this mystery and possibly avert the apocalypse.
He may have misplaced his recent memories but hard earned knowledge of so many years still remains and Langdon soon realizes that Dante's Inferno is involved and with his knowledge of history and of symbolism, soon starts to make sense of this madness. As Langdon puts his knowledge to the test he finds himself taking from Dante's work and pieces together this new problem.
The author did quite the work here. Connecting history and fiction. Referencing the part to their future and just maintain the mystery of it all. We are figuring things along as Langdon does it. Many authors lay out the whole story and then take their sweet time figuring things out but Brown as always does things in his own way. If Langdon ii surprised, deceived or enlightened then we feel the same alongside him.
Focusing on over population, Brown without going off on a tangent and inflicting the ire of religious communities, tells a larger than life story, dealing with the issue taking the scientific route. Jam-packed with action & exhilarating adventure and some many flashbacks to help the story forward, Dan Brown's Inferno raises a lot of questions and completely undoing the damage done by The Lost Symbol.
Very interested to see how this translates to a movie now and the TV series they seem to be developing on Brown's another work 'Digital Fortress'.
"Hook, Line & Sinker. Dan Brown's Inferno has it all"
Genre :
Mystery, Suspense, Thriller
Publisher:
Doubleday
Release Date: 13th May, 2013
My Copy: bought (ebook)
Rate:
4
/5 (Really Liked It)
Buy: Amazon | Book Depository