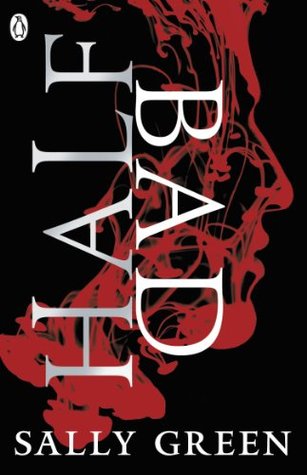 Presenting
Half Bad Trilogy #1 Half Bad by Sally Green
.
Here is the summary of the book:
Wanted by no one.
Hunted by everyone.

Sixteen-year-old Nathan lives in a cage: beaten, shackled, trained to kill. In a modern-day England where two warring factions of witches live amongst humans, Nathan is an abomination, the illegitimate son of the world's most terrifying and violent witch, Marcus. Nathan's only hope for survival is to escape his captors, track down Marcus, and receive the three gifts that will bring him into his own magical powers—before it's too late. But how can Nathan find his father when there is no one safe to trust, not even family, not even the girl he loves?

Half Bad is an international sensation and the start of a brilliant trilogy: a gripping tale of alienation and the indomitable will to survive.
Its raw. Its different. Its an attention-grabber. From the makeup of the cover to that of writing. Sally Green's debut performance has managed ti astound and excite us all. Green plots a world and lays it out bare in front of us in its stark nakedness. The emotions are heightened. The drama crosses limits and every ounce of dangers finds new ways to make us fear for the characters.
A conundrum in itself. On one hand you have the writing. Short clipped sentences. With an almost journal like style, beautifully executed. On the other hand is the world divided into good and evil. Divided into White and Black witches. But labels don't do any good in the jarring divide. Both factions are dangerous, bloodthirsty, vengeful and either of them are not cruel. The Black Witches are vicious in the ways of acquiring what they want and the good witches are equally ruthless in meting out judgment.
This is a world of Black & White and the only grey is Nathan, a young half-white, half-Black Witch. Born to the greatest Black Witch, Marcus Edge (a line of Black Witches fraught with notoriously violent members) and Cora, a White Witch mother. But Nathan is nothing like him. Being raised by White Witches, doesn't mean that that alone is going to be enough.
As each new rule (resolution) they pass, they clip his wings one by one. But he is tool they want fashioned to be a killer and of course the only place they want him in is a cage. Its jarring reading about everything Nathan feels. Readers feel it too. Your hearts just can't help not sympathize with his situation. Enemies in every direction. Everything he does, all that he says, the council learns. Our hearts go out for his plight. Sally Green truly achieves a riveting tale that hits all the right notes.
"An astoundingly riveting debut by Sally Green"
Genre :
Young Adult, Paranormal, Romance, Urban Fantasy
Publisher:
Penguin
Release Date: 27th March, 2014
My Copy: bought (paperback)
Rate:
4
/5 (Really Liked It)
Buy: Amazon | Book Depository