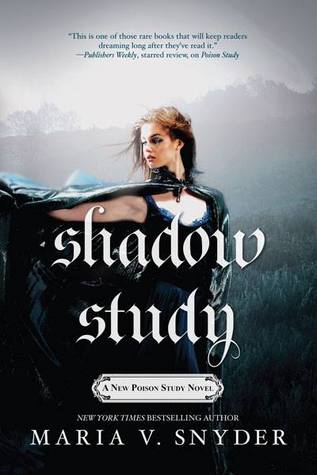 Presenting
Soulfinders #1 Shadow Study by Maria V. Snyder
.
Here is the summary of the book:
Once, only her own life hung in the balance…

When Yelena was a poison taster, her life was simpler. She survived to become a vital part of the balance of power between rival countries Ixia and Sitia.

Now she uses her magic to keep the peace in both lands—and protect her relationship with Valek.
Suddenly, though, dissent is rising. And Valek's job—and his life—are in danger.
As Yelena tries to uncover her enemies, she faces a new challenge: her magic is blocked.And now she must find a way to keep not only herself but all that she holds dear alive.

A CHRONICLES OF IXIA NOVEL
I may be jumping in the middle of the fray but this book was what I needed tog et out of the reading slump I have been in for a few weeks. I confess I haven't read any of the 'Chronicles of Ixia' series/books yet. That said I was hesitant because there were bound to be allusions to previous instances that may have happened in the earlier stories and I would not have understood it at all but I took a chance and was rewarded.
'Shadow Study' may not introduce us to the characters and just jumps in the actions but first timers will feel at ease. Snyder did a great job of summarizing their backgrounds for us to feel familiar with them.
Yelena, Valek, Janco, Ari and their fantastical world of Ixia. A world of magic, mystery and adventure. While a few instances did puzzle me but I was able to overlook that and enjoy it as it is. Shadow Study is a perfectly well written fantasy and I enjoyed it very much.
Yelena and Valek I loved very much. Yelena felt like the typical YA heroine. She is headstrong, independent, honorable, faces danger headlong notwithstanding that she could come to harm. Although she feels herself vulnerable without her powers but her intuitive nature is more than enough substitute for the deficiencies of the situation.
Valek is the heart-mate to Yelena. He is the loyal subject, the ardent lover and the crafty assassin of our story. The designated protector, he takes his job pretty seriously. His were the chapters that provided the most history. While Yelena and Valek did not spend much time together seeing as they were rather tied up with their issues but for the start of spin-off, they hit it off rather well. Of course, Janco's perspective alongside Yelena's & Valek's seemed a bit weird but seeing as (again I mention) I am not as familiar with the characters as I would have liked, I took it as it is.
All in all, I was pleased with what I found. Snyder has penned a well balanced fantasy. The instances. The scene changes. The twists & turns and the three perspective changes. Maria V. Snyder did a damn great job laying out all the pieces while keeping the mystery & suspense of the plot well under order. At last I would only say this while you would like this very much but make to read the other Chronicle of Ixia books first to be able to enjoy it the most ..... Seriously though Shadow Study proved to be a well endowed reading material and I don't regret any part of it.
"A captivating new fantasy and a return to the fantastic land of Ixia"
Genre : Young Adult, High Fantasy, Paranormal, Romance
Publisher: Harlequin MIRA
Release Date: 24th February, 2015
My Copy: publisher & netgalley
Rate:
4
/5 (Really Liked It)
Series by Author(only those reviewed on blog):
Healer #1 #2 #3
Buy: Amazon | Book Depository