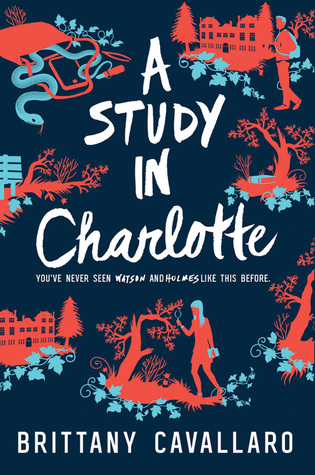 Presenting
Charlotte Holmes #1 A Study in Charlotte Brittany Cavallaro
.
Here is the summary of the book:
The last thing sixteen-year-old Jamie Watson–writer and great-great-grandson of the John Watson–wants is a rugby scholarship to Sherringford, a Connecticut prep school just an hour away from his estranged father. But that's not the only complication: Sherringford is also home to Charlotte Holmes, the famous detective's enigmatic, fiercely independent great-great-granddaughter, who's inherited not just his genius but also his vices, volatile temperament, and expertly hidden vulnerability. Charlotte has been the object of his fascination for as long as he can remember–but from the moment they meet, there's a tense energy between them, and they seem more destined to be rivals than anything else.

Then a Sherringford student dies under suspicious circumstances ripped straight from the most terrifying of the Holmes stories, and Jamie and Charlotte become the prime suspects. Convinced they're being framed, they must race against the police to conduct their own investigation. As danger mounts, it becomes clear that nowhere is safe and the only people they can trust are each other.

Equal parts tender, thrilling, and hilarious, A Study in Charlotte is the first in a trilogy brimming with wit and edge-of-the-seat suspense.
Its Sherlock Holmes and Dr. Watson. Its mystery. Its a deadly chase. Its a tribute. And its a gender bender. Coming along a long of line of adaptations is Cavallaro's A Study in Charlotte. This is a world where Sherlock Holmes and Dr. Watson are real, their adventures are real and all the more exciting. Of course, yes gender bender-done before, most notable being the show Elementary, and the novel series Lock & Mori (haven't read it yet) but Charlotte Holmes and James Watson are a pair onto themselves.
Descendants of the legendary sleuth and his partner-in-crime, the good doctor. They may be far from London but they still manage to get tangled in a mystery. The enemy, I won't name, proved a fitting adversary enacting said crimes in a manner of both Charlotte and Jamie's ancestors' cases. Framing the duo for lack of a better word. Thus leading them on a merry chase both physically and mentally in a bid to uncover the truth and clear their names.
It is fun to watch as our Holmes & Watson fumble and stumble through the clues in search of the truth. They may be the descendants but are definitely not carbon copies of them. An overall dynamic duo. They portray a multiple of other traits that keeps the tale exciting. Calculating, analytical, alone and aloof Charlotte Holmes and dreamer and budding writer Jamie Watson. And they strike this unlikely friendship with its constant pitfalls and enlightenment as you would expect a Holmes & Watson friendship to be. With the idea of immanence to the mix.
Most of all they are not perfect in anyway at all and likewise not true copies of their ancestors .... but that is definitely a good thing. Establishing their own identities through Brittany Cavallaro's words, they are a charming pair, terribly flawed and their own closet full of skeletons ...... So my only complaint was the infodumps cited at various instances during the book felt too cumbersome but other than that I am totally on board with this brand new incarnation of Holmes & Watson.
"Scintillating new take on a gender-bended Holmes & Watson. The game is on"
Genre : Young Adult, Mystery, Suspense, Contemporary, Romance
Publisher: Katherine Tegen Books
Release Date: 1st March, 2016
My Copy: publisher & edelweiss
Rate:
4
/5 (Really Liked It)
Buy: Amazon | Book Depository