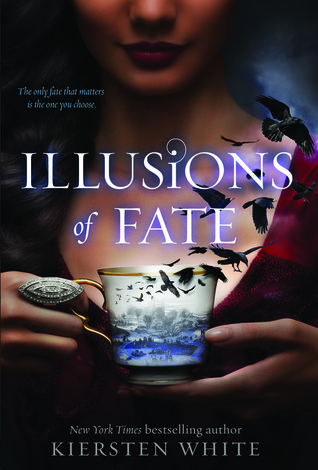 Presenting
Illusions of Fate by Kiersten White
.
Here is the summary of the book:
Downton Abbey meets Cassandra Clare in this lush, romantic fantasy from New York Times bestselling author Kiersten White.

"I did my best to keep you from crossing paths with this world. And I shall do my best to protect you now that you have."

Jessamin has been an outcast since she moved from her island home of Melei to the dreary country of Albion. Everything changes when she meets Finn, a gorgeous, enigmatic young lord who introduces her to the secret world of Albion's nobility, a world that has everything Jessamin doesn't—power, money, status…and magic. But Finn has secrets of his own, dangerous secrets that the vicious Lord Downpike will do anything to possess. Unless Jessamin, armed only with her wits and her determination, can stop him.

Kiersten White captured readers' hearts with her New York Times bestselling Paranormalcy trilogy and its effortless mix of magic and real-world teenage humor. She returns to that winning combination of wit, charm, and enchantment in Illusions of Fate, a sparkling and romantic new novel perfect for fans of Cassandra Clare, The Madman's Daughter, and Libba Bray.
Positively mesmerizing and fantastically sound, Kiersten White's new offering has the right amount of banter, the ever present sarcasm, a politically intriguing and a vivid alternate world, with just the perfect balance between magic and romance. 'Illusions of Fate' is my first read from the author and may I just proclaim that I am a fan.
Fate can be as fickle a they come, scissors always ready to cut one thread and join another. They say we come down in pairs, that there is the perfect person just waiting to be found. You just need to find out who that is. Hasn't happened to me yet but it seems to be for 'Finn' and 'Jessamin' and they were perfect for each other.
Altogether stubborn, smart and witty and compassionate in spades. Nothing original with that if you think that way because these traits seem to be the prerequisite for a literary heroine. But you don't seem me complaining if they are well rounded and their characters fit well with the given plot. Thus my appreciation for Jessamin. But the author did give her some differentiating traits too. She hails from a minor country. She is dark skinned, making her stick out but her overtly confident exterior does well for her and people just can't hep not be drawn in by her charm.
Strangely mysterious Finn was a sight for the sore eyes. He is nobility. He is smart. Sometimes shy and quite the charming fellow when he wants to be. His is not the most glittering of pasts and as such he holds a lot of secrets close to himself with some very fearsome enemies waiting in the wings to make a grab at him, if he so much so showed but a moments of weakness.
His connection with Jessamin is instant and endearing. Magic is involved of course but this connection is very much them. It was through Finn that Jessamin saw another side of Albion nobility, one she never knew existed but which comes to define them both in more ways than one. Witty banter abound these two do things at their own set pace. There is a healthy respect to be found in both the parties and even if Finn can be quite the over protective guy, he lets her make her own decisions somethings that is very crucial in their relationship.
Going in unaware and coming out educated. This is my first experience with Kiersten White and i'm pleased to note that her brand of fantasy agrees quite nicely with me. There is intrigue. A power play at hand with the well being of two nations in the mix. Swaggering adventure Well placed dramatics, cutting humor, and the battle of wit. And imminent surprise that gives new meaning to the term surprise and an altogether sweet romance helped along by a gorgeous world building. Stars out slow but ends up keeping us hooked till the last page.
"Positively enchanting Victorian scenery with a magically romantic love ordained by fate"
Genre :
Young Adult, Paranormal, Historical Fantasy, Romance
Publisher:
Harper Teen
Release Date: 9th September, 2014
My Copy: publisher and edelweiss
Rate:
5
/5 (It was Amazing)
Buy: Amazon | Book Depository