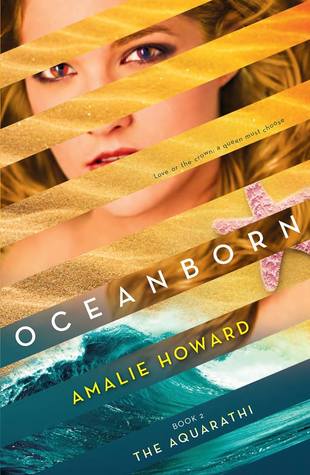 Presenting
The Aquarathi #2 Oceanborn by Amalie Howard
.
Here is the summary of the book:
The coronation is over.

But the battle has just begun.

Nerissa Marin has won her crown. But can she keep it? Already, her ties to the human realm are driving a wedge between Nerissa and her people. When word arrives that her part-human prince consort, Lo, has been poisoned, she makes the difficult choice to leave Waterfell and return landside. As the royal courts debate her decision, even more disturbing rumors surface: a plot is rising against her, led by someone she least expects.

On land, Nerissa learns another shocking truth: Lo does not remember who she is. As her choice to try to save him threatens her hold on her crown, changing loyalties and uncertainty test her courage in ways she could never have imagined. Nerissa will have one last chance to prove herself as a queen …and save the undersea kingdom she loves.
It is always a joy to read a sequel and find out that it is even better than its predecessor and Oceanborn does not disappoint. I always make it a point to read Harlequin Teen books and The Aquarathi series definitely makes that cut. Following in the footsteps of Waterfell, Oceanborn boosts of a particularly enticing cover, strong characters, a strong plot consisting of some very unsuspecting surprises.
Oceanborn picks up where Waterfell left off. Nerissa has been reinstated as the Queen of Waterfell but unrest reigns supreme. In a bid to keep Lo safe, she sent him to the human world. But that seemed not to be the case. There is danger everywhere. There are those below and above ground who would go to great lengths to harm Nerissa and her loved ones fall in that category too. And Nerissa must do all she can to brave such dire odds.
Nerissa says that she is an alien ergo, human emotions don't apply to her but out of all of them I found our young Aquarathi Queen to be the most human of them all. She is by no means perfect. There was a time when she was hesitant, afraid, sometimes selfish and sometimes a little stupid. But she is selfless too and willing to sacrifice her happiness to help her friends and family. And seriously queenly duties do not mix well with the desires of the heart and it is interesting how Rissa tackles it all with some very heart-warming and some fierce moments along the way.
Lo. Well he was a bit more different this time. An attack on his person rendered him amnesiac. He doesn't know his other Aquarathi half at the moment. He doesn't remember Nerissa and his personality does a u-turn. But that electrifying chemistry still holds strong. Amnesia may have affected his brain but his body still remembers Nerissa. The dangerously hot and sexy Lo was too adorably cute as he stood firm with Nerissa against all odds, adamant to recover his memories and recover his missing piece.
Despite all odds, the bound stays true. A bond that transcends all. I really melted at the romantic cuteness between Lo and Rissa here. They were too cute together. For Speio I felt really bad. He got mixed in the wrong crowd in the first book and here when he had just regained his worth and Rissa's friendship, he gets thrown another surprising odd bone at the springing more dire circumstances for Nerissa and Lo.
Among the secondary characters Jenna truly stood at the front. We saw a glance of it in Waterfell and it in Waterfell and it is even more apparent in Oceanborn. Of course having experienced Amalie Howard's brand of writing in the first book, I expected surprises where I didn't think possible and in places never thought imaginable and I was not disappointed at all. Howard maintains a constant flow with strong never lagging, never speeding too fast, just maintaining the perfect pace and keeping hooked hitching us with the twists and turns along the way. And I really dob't like cliffhangers. Hope we'll get a 3rd book soon.
"An excitable and palpable & passionate sequel that has the power to render us yearning for more"
Genre :
Young Adult, Paranormal, Urban Fantasy , Romance
Publisher:
Harlequin Teen
Release Date: 29th July, 2014
My Copy: bought (ebook)
Rate:
5
/5 (It was Amazing)
Other Books in the series (review links):
#1
Waterfell
Buy:
Amazon
|
Book Depository