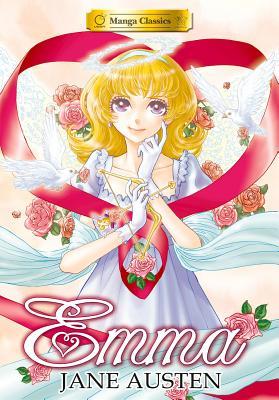 Presenting
Manga Classics: Emma by Jane Austen, Stacy King, Crystal Chan, Po Tse
.
Here is the summary of the book:
Just in time for the 200th Anniversary, Manga Classics: Emma brings Jane Austen's classic tale of youthful folly and romantic exuberance to a modern audience with this beautiful, new manga adaptation. The impulsive match-making of Emma Woodhouse delivers both humor and heartache through the gorgeous artwork of manga-ka Po Tse (Manga Classics: Pride and Prejudice). - Manga Classics editions feature classic stories, faithfully adapted and illustrated in manga style, and available in both hardcover and softcover editions. Proudly presented by UDON Entertainment and Morpheus Publishing.
Another classic that gets the manga treatment. Following in the series after Les Miz, Pride & Prejudice, The Scarlet Letter & Great Expectations comes Emma. Read in the usual format of back to front, Right to left and anticlockwise, this one like all the others in this series sports gorgeous artwork and illustration. 'Emma' coincidentally happens to be one classic that is quite easy to get into as well and her attempts at matchmaking have always been hilarious to say the least.
So it was a bit disconcerting at first to see the characters sporting such outrageously hilarious expressions but I got used to it quickly and enjoyed reading Emma's escapades throughout the story. Another great offering to all readers alike looking to re-discover something in this timeless Jane Austen classic. Great job by Stacy King, Po Tse and Crystal Chan translating Miss Austen's manuscript into this fun and intricately detailed and gorgeous adaptation.
"A gorgeous and funny manga adaptation"