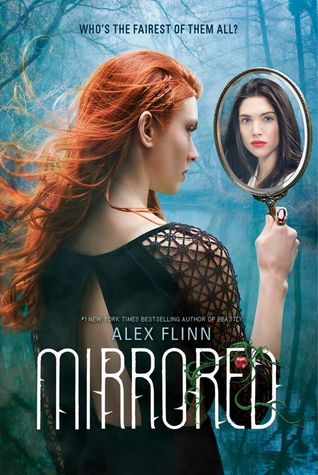 Presenting
Mirrored by Alex Flinn
.
Here is the summary of the book:
A modern, multi-generational tale of Kendra, the witch from "Snow White," who trains Violet, an ugly, lonely, and heartbroken girl in the 1980s who transforms herself into "the fairest one of all" but still cannot win Greg's heart, and Celine, Greg's daughter with Violet's high school rival, Jennifer.
Alex Flinn returns with yet another fairytale re-telling. This time it is 'Snow White & the Seven Dwarfs' spanning across generations. The YA genre is rife with numerous best selling titles in the re-tellings category. Some veer to extremes, some portray 'what ifs' and then there is Alex Flinn whose particular brand of re-telling comes fairly grounded in its origins, set within modern twists. Mirrored is one such tale with a gorgeous cover and an equally delightful story.
Don't judge a book by its cover, meant in the most intangible sense. This is the story of Violet and Celine. Violet is the step-mother and Celine, the Snow White of the story. Added modernity to the mix, these two in their own ages have been bullying victims. But what matters is how you deal with what was done to you. Where Violet chose bitter vengeance, Celine chose to look past it all. And Goose ..... he was just the sweetest guy in the short size.
Everyone of the characters gets their own voice in this story and they all play their role perfectly. You just can't help but sympathize with Violet but you also don't agree with her going to the dark side. Celine plays on our emotions perfectly. She is smart, good and (tries) to see good in everyone. The rollicking emotional twists and hi-jinks makes this a perfect re-telling because really I finished it in one sitting so you can see that I was invested in what was going on here.
But it felt a bit too simple. In a world where tv shows like Once Upon A Time exists it is pretty hard to measure up to its caliber because at the base of it, that show is a Snow White re-telling (foremost) with the add-on's and a good one too so sadly Mirrored gets 2 stars less from me.
"A subtle and sweet re-telling of Snow White and the Evil Queen"