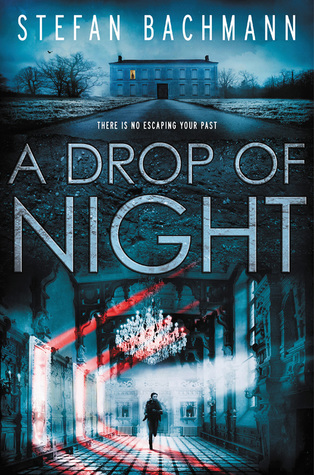 Presenting
A Drop of Night by Stefan Bachmann
.
Here is the summary of the book:
Five gifted teenagers are selected out of hundreds of other candidates to fly to France and help with the excavation of a vast, underground palace buried a hundred feet below the suburbs of Paris. Built in the 1780's to hide an aristocratic family and a mad duke during the French Revolution, the palace was sealed after the aristocrats fled there. No one has set foot in it for over two centuries.

Or so they thought.

But nothing is as it seems, and the teenagers—bitter, iron-hearted Anouk, gentle Will, bubbly Lilly, and crazy Jules— soon find themselves embroiled in a game far more sinister, and dangerous, than they could possibly have imagined. An evil spanning centuries is waiting for them in the depths. . .

You cannot escape the palace.

You cannot guess its secrets.
Where the idea merits more than the final result. A Drop of Night by Stefan Bachmann entices a rich french history. An underground castle. Mysterious restoration project. Exceptional teenagers recruited to take part in said project. Deception and subterfuge abound and the mysterious bogeyman ..... I so wanted to like this book ..... I liked the author's middle grade books so I was looking forward to this very much but it felt very much flat and lacking finesse.
The characters were well enough. Each different in their own ways and each with their own quirks. The transition between the past and the present was also very well done. The mystery was perfectly maintained and the thriller elements where very well realized as the truth of the project is revealed. But what the story lacks is finesse and enough explanations to explain and deliver answers to the happenings of the tale. The ordeal felt very much like Maze Runner but no explanation is given for the traps set in the castle. The conclusion also doesn't satisfy me very much.
I like Bachmann's flow of words very much and that was aplenty here but the story misses a lot of elements in its lineup which could have taken it to newer heights.
"Replete with the mysterious but not my cup of tea"
Genre :
Young Adult, Mystery, Thriller, Suspense
Publisher:
Greenwillow Books
Release Date: 15th March, 2016
My Copy: publisher & edelweiss
Rate:
3
/5 (Liked It)
Other Books from the author:
The Peculiar #1 #2
Buy:
Amazon
|
Book Depository