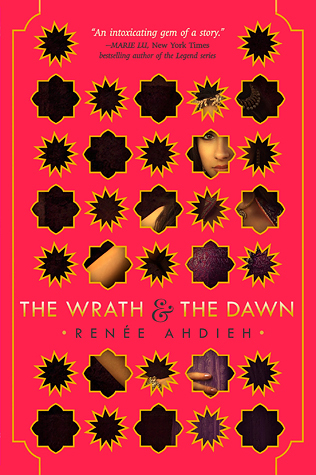 Presenting
The Wrath and the Dawn #1 The Wrath and the Dawn by Renee Ahdieh
.
Here is the summary of the book:
One Life to One Dawn.

In a land ruled by a murderous boy-king, each dawn brings heartache to a new family. Khalid, the eighteen-year-old Caliph of Khorasan, is a monster. Each night he takes a new bride only to have a silk cord wrapped around her throat come morning. When sixteen-year-old Shahrzad's dearest friend falls victim to Khalid, Shahrzad vows vengeance and volunteers to be his next bride. Shahrzad is determined not only to stay alive, but to end the caliph's reign of terror once and for all.

Night after night, Shahrzad beguiles Khalid, weaving stories that enchant, ensuring her survival, though she knows each dawn could be her last. But something she never expected begins to happen: Khalid is nothing like what she'd imagined him to be. This monster is a boy with a tormented heart. Incredibly, Shahrzad finds herself falling in love. How is this possible? It's an unforgivable betrayal. Still, Shahrzad has come to understand all is not as it seems in this palace of marble and stone. She resolves to uncover whatever secrets lurk and, despite her love, be ready to take Khalid's life as retribution for the many lives he's stolen. Can their love survive this world of stories and secrets?

Inspired by A Thousand and One Nights, The Wrath and the Dawn is a sumptuous and enthralling read from beginning to end.
Captivating. Attractive. Enchanting. With the needed oomph. Renee Ahdieh's The Wrath and the Dawn is the first of the duology and the perfect re-telling of the Arabian Nights or 1001 Nights as it is known. Clothed in an innovative cover and filled with Ahdieh's flowing words, The Wrath and the Dawn was at the top of my favorite book last year (this is a late review of the book).
Shahrzad and Khalid of Khorosan made for an intriguing pair. Strong willed, Sassy and capable of speaking her mind Shahrzad. Volunteering to marry a rumored tyrant when she is most likely going to die the next dawn. Willing to sacrifice herself in order to kill the man responsible for the death of her best friend Shiva. She is a force to be held and knows just what buttons to push. An all round bad-ass and kick-ass heroine to behold.
Khalid, the tall, dark and mysterious ruler of Khorosan. Imperfect and marred with a tragic past. Eighteen years old and being burdened with a mysterious affliction hasn't done anything to alleviate the tortured soul he is. Death of so many wives without reason has not done anything to raise him in the eyes of his people either. He often appears stone cold and calculating but Shahrzad seems to strike a chord.
She sees something no one ever cared to see. She may have agreed to marry him to eventually exact revenge for her best friend but instead of a monster she sees a tortured soul looking for belonging and love, someone who interests in listening to stories. She sees a man chaffing under the guilt of the murders of his previous wives. Somehow their developing love melts Khalid's cold heart into beating anew. Somehow he finds the yin to his yang. A burgeoning love, fiercest of the fierce. Searing romance, emotions raging high .... and you (reader) find yourself swept in their overtures of love.... My favorite pair .......
Ahdieh paints a convincing and vibrant world with her words. The narrative is spot on and Khorosan is beautifully realized. The words easy to understand and lyrical to be experienced. There is also a glossary at the end to reference the meaning of the Arabic words used. And all the food Shahrzad and Khalid consume and the mouth watering descriptions the author provided had me constantly hungry wherever i came across them.
I'm forgetting someone aren't I? Yes! .... Tariq .... I remember him .... He just annoyed me to no ends and whenever his chapters came around I was always impatient for them to be over. Otherwise I just absolutely loved and adored every bit of this re-telling of 1001 Nights. Of course magic is touched upon but not overtly depended on as the human emotions play a bigger part in this rendition. Utter perfection ..... Eagerly anticipating The Rose and the Dagger now.
"Luxuriously detailed and richly narrated. Renee Ahdieh produces an enthralling re-telling of the Arabian Nights"
Genre : Young Adult, Historical Fiction, Fantasy, Fairytale Re-telling, Romance
Publisher: G.P. Putnam's Sons Books for Young Readers
Release Date: 12th May, 2015
My Copy: bought (hardbound)
Rate:
5
/5 (It was Amazing)
Buy: Amazon | Book Depository