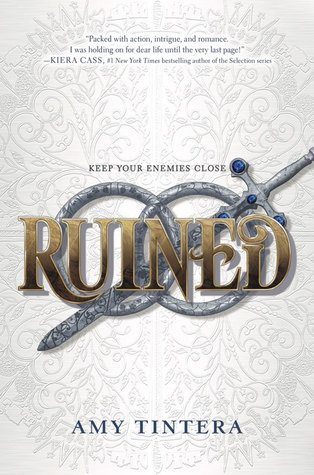 Presenting
Ruined #1 Ruined by Amy Tintera
.
Here is the summary of the book:

A revenge that will consume her. A love that will ruin her.

Emelina Flores has nothing. Her home in Ruina has been ravaged by war. She lacks the powers of her fellow Ruined. Worst of all, she witnessed her parents' brutal murders and watched helplessly as her sister, Olivia, was kidnapped.

But because Em has nothing, she has nothing to lose. Driven by a blind desire for revenge, Em sets off on a dangerous journey to the enemy kingdom of Lera. Somewhere within Lera's borders, Em hopes to find Olivia. But in order to find her, Em must infiltrate the royal family.

In a brilliant, elaborate plan of deception and murder, Em marries Prince Casimir, next in line to take Lera's throne. If anyone in Lera discovers Em is not Casimir's true betrothed, Em will be executed on the spot. But it's the only way to salvage Em's kingdom and what is left of her family.

Em is determined to succeed, but the closer she gets to the prince, the more she questions her mission. Em's rage-filled heart begins to soften. But with her life—and her family—on the line, love could be Em's deadliest mistake.
REVIEW ==
Think 'Revenge' in an epic fantasy setting. This is my first book from Amy Tintera and i'm happy and ecstatic to report it bloody well fits all the excitement. I devoured it essentially and loved every bit of it. This is the story of Emelina Flores, the eldest Princess of Ruina and magic-less. This is her story as she decides to avenge and nation by infiltrating Lera, finding her younger sister and destroying those who destroyed her family.
They say you are seeking revenge, then dig two graves and keep one for yourself. Emelina proved a worthy protagonist. She knows what she wants. She is ruthless enough to achieve her mission. Infiltrating the enemy kingdom and marrying the Crown Prince Casimir, after murdering the real fiancee, that takes guts and a mean & calculating streak to achieve. She is strong and unscrupulous enough to be thus.
But falling in love? That didn't factor in her plans. Prince Casimir is definitely not what she expected him to be. He is kind, considerate, aloof and awkward at first but as we progress we see he is not like his parents at all. He shows no cruelty for the Ruined, and is willing to let them go if they committed no crime. That shows real strength of character. Of course he starts to change his views after his marriage to Emelina.
Instead of just writing the story through Emelina's perspective, she puts in both Cas and Em's perspectives in alternating chapters. A good different from all the tales in this genre. Not only do we see things from Em's side but also Cas' views of his new wife and all that happens does wonders for readers to understand the character better.
The romance was of course subtle and slowing building up to a crescendo towards the end. And Tintera beautiful paces it all to bring the best of all the characters. They are standing on opposite side, Em and Cas but they are also insanely in love with each other. Some might not wish it but the romance plays a pivotal role in the tale. Em never expected to fall for the enemy. She only wanted revenge on Lera for destroying her life and the writing graciously enunciating her conflict .... Very excited to see what happens next *fingers-crossed* Hopefully Em and Cas will stay together in the end.
"Revenge meets epic fantasy. It hooks you in and reels you further till your hanging on for dear life"
Genre : Young Adult, High Fantasy, Paranormal, Romance
Publisher: Harper Teen
Release Date: 3rd May, 2016
My Copy: publisher & edelweiss
Rate:
5
/5 (It was Amazing)
Buy: Amazon | Book Depository