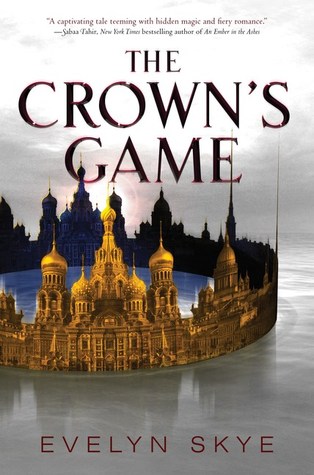 Presenting
The Crown's Game #1 The Crown's Game by Evelyn Skye
.
Here is the summary of the book:
Vika Andreyeva can summon the snow and turn ash into gold. Nikolai Karimov can see through walls and conjure bridges out of thin air. They are enchanters—the only two in Russia—and with the Ottoman Empire and the Kazakhs threatening, the Tsar needs a powerful enchanter by his side.

And so he initiates the Crown's Game, an ancient duel of magical skill—the greatest test an enchanter will ever know. The victor becomes the Imperial Enchanter and the Tsar's most respected adviser. The defeated is sentenced to death.

Raised on tiny Ovchinin Island her whole life, Vika is eager for the chance to show off her talent in the grand capital of Saint Petersburg. But can she kill another enchanter—even when his magic calls to her like nothing else ever has?

For Nikolai, an orphan, the Crown's Game is the chance of a lifetime. But his deadly opponent is a force to be reckoned with—beautiful, whip smart, imaginative—and he can't stop thinking about her.

And when Pasha, Nikolai's best friend and heir to the throne, also starts to fall for the mysterious enchantress, Nikolai must defeat the girl they both love... or be killed himself.

As long-buried secrets emerge, threatening the future of the empire, it becomes dangerously clear... the Crown's Game is not one to lose.
REVIEW ==
Imperial Russia. A duel. Two Enchanters vying for the title of the Imperial Enchanter. Marvelous magic and a bittersweet romance. Very like The Night Circus, The Crown's Game by Evelyn Skye takes its queues from the livly Russian backdrop. This is Vika Andreyeva and Nikolai Karimov's battle for survival & the honor of the final reward, Pasha's journey for self discovery and equally the battle for the best mentors.
Packed with strong and dynamic characters. A lush and exotic backdrop. Solid and tight plot. Well paced and not a thread loose and twists and turns delivered in all the the right places. And all the wonderful magic and enchantments they perform really brings the plot to newer heights. It is not an all out magic duel in the general sense but more like they have to use their enchantments in ways to help Russia and Skye's prose brings that on the forefront wonderfully.
Vika was a darling. She grew up on the island with her father and is naturally very proficient with nature magic. Reckless, imaginative, decisive and resilient are some of the words I would throw out there because they describe her perfectly. Believing to be the only Enchanter of her generation, it comes as a shock that their was another. And Vika is prepared to hate the boy because failure means death and there is no coming back from that.
Nikolai is the other Enchanter and he is all kindness and resourcefulness. Unlike Vika, his prowess lies in enchanting materials. He can look through walls. He can complete a bridge without help from the raw material provided. He was an orphan as such he had to work to get the level of achievement he enjoys. It also helps that he is gorgeous boy both inside and out. And selfless to boot.
The romance may seem insta at first (there is a bit of a triangle too) and in ways it is. Vika and Nikolai can't help but be drawn to each other since their meeting. They know they are opponents but they also can't deny what their heart tells them. Maybe it is their magic attracting each other but what they do really takes your breath away (That cruel .... cruel ending). They don't really act on their feelings but the undercurrents of it are more than enough to tether you to your sets.
Of adding the Tsarevich Pasha to the mix doesn't help matters. He is a free spirit. The future Tsar and he doesn't like being tied down with court matters and prefer to escape outside and help his people in his own way. Didn't really like him at first because he came of as a selfish and careless and sets his eyes on Vika. Nikolai, his best friend likes her too. Awkward. His actions lead to a lot of things to happen, which i am not at a liberty to tell ... But i did like him as a hole very much.
I have never been anywhere outside India (yet) but the details in which Evelyn Skye brings Russia ro life in her pages inspires an awe at the gorgeous setting, so full of life. The prose flows well enough to feel like you are actually a part of the story ... And that bittersweet and cruel (I know I said this before) ending. The passion. The swoon-worthy characters and those feels .... I am desperate for the next book very much.
"Enchanting. Heartfelt and unputdownable. Fans of the Night Circus will enjoy this"
Genre : Young Adult, Historical Fiction, Fantasy, Paranormal, Romance
Publisher: Balzer + Bray
Release Date: 17th May, 2016
My Copy: publisher & edelweiss
Rate:
4
/5 (Really Liked It)
Buy: Amazon | Book Depository