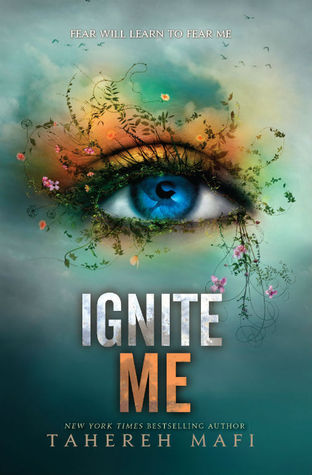 Presenting
Shatter Me #3 Ignite Me by Tahereh Mafi
.
Here is the summary of the book:
The heart-stopping conclusion to the New York Times bestselling Shatter Me series, which Ransom Riggs, bestselling author of Miss Peregrine's Home for Peculiar Children, called "a thrilling, high-stakes saga of self-discovery and forbidden love."

With Omega Point destroyed, Juliette doesn't know if the rebels, her friends, or even Adam are alive. But that won't keep her from trying to take down The Reestablishment once and for all. Now she must rely on Warner, the handsome commander of Sector 45. The one person she never thought she could trust. The same person who saved her life. He promises to help Juliette master her powers and save their dying world . . . but that's not all he wants with her.

The Shatter Me series is perfect for fans who crave action-packed young adult novels with tantalizing romance like Divergent by Veronica Roth, The Hunger Games by Suzanne Collins, and Legend by Marie Lu. Tahereh Mafi has created a captivating and original story that combines the best of dystopian and paranormal, and was praised by Publishers Weekly as "a gripping read from an author who's not afraid to take risks." Now this final book brings the series to a shocking and satisfying end.
Mindblowing, enticing, exciting and.... an igniting conclusion. Seriously I am stumped. At a loss for words. Tahereh Mafi strikes again. Its not just her lyrical style of writing but also the way in which she takes the title of the book to a whole new level --- literally. First it was Shatter Me, then Unravel Me (i was actually beginning to see the trend with the names) and finally Ignite Me just explodes on us.... Chapters 55-58 anyone..... *hot and flustered here*
My goodness what an ending and what a transformation Juliette had made. I had any misgivings about her breaking it with Adam but man I like the strong and confidante Juliette way better than the fragile and scared one and I really can't believe i'm saying this but Warner or rather Aaron did wonders to her. Both Juliette and Adam had their own share of grief to handle. The Juliette then was a scared little girl, afraid of her own skin. Too long kept form human contact may have somehow managed to help her keep her humanity but really lowered her confidence and when Adam came along she felt a connection to him and throughout the first and second books he became her shield. So i'm definitely not sad to see that insecure girl go because this confident Juliette of the now, who could finally speak her mind is what we needed and very much appreciated.
Adam and Warner changed very much too. They were dealt a surprise in Unravel Me but it took them a long time to finally see eye-to eye together.Adam was a down right jerk. He whined a lot in the second book and he did so here too as he felt Juliette slipping away and falling for Warner. The Adam we saw in Shatter Me was a better person than the one we were faced with in the second two. He showed a despicable show of himself and I pretty much hated him for it but he somehow came to his senses and made peace with Warner, which was really sweet of him. Maybe he finally realized it was Anderson at fault and not Warner who was the bad guy here.... Well good on him.....
Warner was the best..... again I say chapters 55-58 anyone. Hot and flustered i'm definitely not going to forgot anytime soon. If you thought he was brutally honest in Unravel Me with Juliette then he just laid himself bare infront of her in Ignite Me. Baring it all to Juliette (and us too *cackles*). He did everything for Juliette. Deep beneath that beautifully flawless face was a scared little boy who just wanted to be accepted and i'm proud of Juliette seeing the Diamond in the rough that he was and accepted him as he was. Who in turn returned her every affections with a fiery passion and a considerate heart. Man I was ..... no many of us were so wrong about him on so many levels.
And then there was Kenji. The best friend every girl needed and was there for Juliette when she was the lowest in Unravel Me and he was there too when she made the most important decision of her life and regained that confidence and her voice in spades. A practical joker with a pretty sharp and a knack for the impossible. Kenji was just someone who was very dependable. And then there was the plot.
Phenominally amazing, Mafi went all out with this conclusion. Tying up loose ends, dropping bombshells everywhere, skyrocketing all that dram and emotions just enough to send us to the edge of our seats. I hoped that the climax wasn't so rushed but that was just redeemable because of the rather Igniting passionate chemistry between Juliette and Warner that was just astronomical... Not forgetting this series anytime soon fellas not at all...... *hot blush* *swoons* *flustered*
"Tahereh Mafi cooks up an igniting conclusion to her astronomically fabulous series"
Genre :
Young Adult, Paranormal, Dystopia, Post Apocalyptic , Romance
Publisher:
Harper Collins
Release Date: 4th February, 2014
My Copy: bought (ebook)
Rate:
5
/5 (It was Amazing)
Other Books in the series (review links):
#1
Shatter Me
#2 Unravel Me
Buy:
Amazon
|
Book Depository