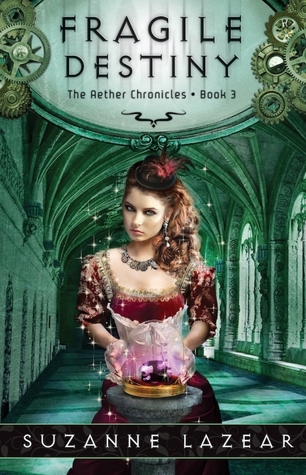 Presenting
The Aether CHronicles #3 Fragile Destiny by Suzanne Lazear
.
Here is the summary of the book:
Noli and her true love V fear the worst if the Staff of Eris—a potent Otherworld relic—falls into the wrong hands. Broken into pieces and hidden in the mortal realm long ago, the staff bestows vast powers on whoever possesses it. Ciarán, the dark king, is trying to rebuild the staff, intending to use it to install a new queen.

In a desperate effort to keep the Otherworld from falling into darkness, Noli and V plot the daring theft of a jewel Ciarán needs to complete the staff. But Ciarán is not so easily defeated. Through his devious machinations, he has set a plan in motion for a final showdown that will decide who rules the Otherworld once and for all.
After Innocent Darkness, and Charmed Vengeance comes 'Fragile Destiny'. A bit more on the emotional iota instead of action. While it felt a little flat, hence the loss of 2 stars but what it lacked in action it made up for with some extreme heavy dosage of drama. And I hope there are going to be more books in the series because while that open-ended epilogue fit in there I do hope that is not the last of it.
The emotional endeavors aside, Fragile Destiny packed a lot of surprise punches. Things we didn't think possible happened and people long gone came back. Noli as usual is quite impulsive and leaps before she sees what is infront of her and her good intentions with that attitude turn to a bad fall.
And it almost breaks V and Noli apart but thanks to James' mediation, the situation was salvaged after he gives the two quite the dressing down if you pardon the pun. Of course it wasn't just a simple small talk but it yielded results and they get their happily ever after.
Of course, Elise and Kevighn too hold a great part in the story. Elise remains the only threat to the High Queen and Kevighn, well he has his own agendas and issues to sort out. I did expect a little bit more from this tale, of course a lot of loose ends tied up well but left the business with the staff wide open to contemplation. I do hope we'll see more books that deal into it Ms. Lazear. Good Job and damn that is one gorgeous cover here. All three books in the series had beautiful cover and it definitely provided a great towards the books too. Also did anyone notice that the whole series released on 8th August for 3 consecutive years between 2012-2014..... Good Job!
"An emotionally charged steampunk-y magical romp"
Genre : Historical Fiction, Young Adult, Paranormal, Romance, Steampunk
Publisher: Flux
Release Date: 8th August, 2014
My Copy: publisher and netgalley
Rate:
3
/5 (Liked It)
Books in Series(review links):
#1 Innocent Darkness
#2 Charmed Vengeance
Buy:
Amazon
|
Book Depository