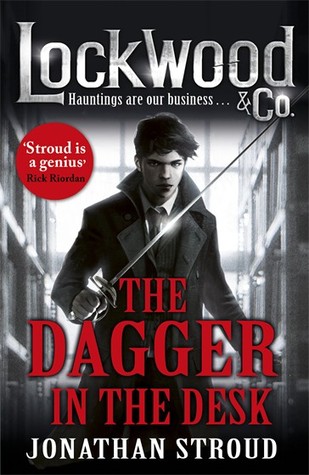 Presenting
Lockwood & Co. #1.5 The Dagger in the Desk by Jonathan Stroud
.
Here is the summary of the book:
A thrilling new case for London's most talented psychic detection agency – from the global bestselling author of the Bartimaeus Sequence.

In London, a mysterious and potentially deadly ghost is stalking the halls of St Simeon's Academy for Talented Youngsters. It lurks in the shadows, spreading fear and icy cold – and it carries a sharp and very solid dagger . . .

The headmaster wastes no time in enlisting the help of ghost-hunters Anthony Lockwood, Lucy Carlyle and George Cubbins.

Can Lockwood & Co. survive the night and save the day?
Novella .... Novella what would I do with you. As opposed to full fledged novels these shorter stories finish far too soon and far too fast for our liking. 'Tis particularly the case with series/stories of our liking. They say all good things are best served in small doses and that is particularly the case right here. When I saw this on netgalley, I mistook it for the third book the the 'Lockwood & Co.' series just as well this is more of a bridge between the 1st and the 2nd books.
After their sweeping success with the screaming staircase our motley trio are enjoying their new fame, new cases and an increase in action. Then they get handed a particularly nasty one from the headmaster of London's St. Simeon's Academy for Talented Youngsters. There is a potentially deadly ghost on the prowl, fear and icy cold to be sure and a very-very sharp solid dagger. Nasty business indeed but it is upto the expertise of Anthony Lockwood, Lucy Carlyle and George Cubbins to save the day.
Jonathan Stroud you are a genius. He maintains the How. The creepy cold atmosphere that we enjoyed so much in the first & second books. While it is rather disheartened that this is a novella but spectre and the like are more creepy to send shivers down our spine. A bridge it may be but Stroud gives us enough ti keep our ghostly appetite sated till the release of the third book ..... and if you still haven;t begun it yet ..... FIE ON YOU ..... WHAT ARE YOU WAITING FOR .... Go for it ....
"A short but equally spookly interlude in the lives of Lockwood & Co."