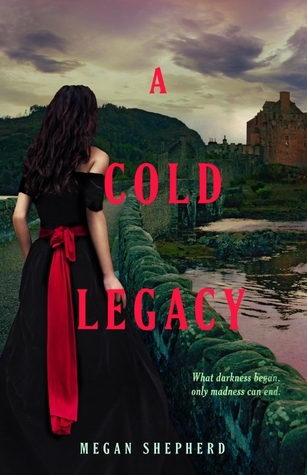 Presenting
The Madman's Daughter #3 A Cold Legacy by Megan Shepherd
.
Here is the summary of the book:
After killing the men who tried to steal her father's research, Juliet—along with Montgomery, Lucy, Balthazar, and a deathly ill Edward—has escaped to a remote estate on the Scottish moors. Owned by the enigmatic Elizabeth von Stein, the mansion is full of mysteries and unexplained oddities: dead bodies in the basement, secret passages, and fortune-tellers who seem to know Juliet's secrets. Though it appears to be a safe haven, Juliet fears new dangers may be present within the manor's own walls.

Then Juliet uncovers the truth about the manor's long history of scientific experimentation—and her own intended role in it—forcing her to determine where the line falls between right and wrong, life and death, magic and science, and promises and secrets. And she must decide if she'll follow her father's dark footsteps or her mother's tragic ones, or whether she'll make her own.

With inspiration from Mary Shelley's Frankenstein, this breathless conclusion to the Madman's Daughter trilogy is about the things we'll sacrifice to save those we love—even our own humanity.
I stand corrected maybe their is a cure. After a dismal sequel in the form of 'Her Dark Curiosity', Megan Shepherd produced a knight-in-shining armor finale, albeit a golden one in the form of 'A Cold Legacy'. In a way I would always love the first book the best but this one comes a close second with the second book coming in last. A decisive battle, even more horrors of the third degree and a 'dark' cold legacy that might just make or break it all.
Having read the whole series we see some strong classic representations. The 1st book bases on the H.G. Wells story 'The Island of Dr. Moreau', the 2nd one takes queue's from Jack the Ripper legends and the 3rd, if you have been following the story on Frankenstein. Decisively less darker than the first two books the author presented her re-imaginings perfectly enough to make it her own and not sounding like a copy .... wrapping up everything beautifully in the end.
The character development is one of the strongest suits of this book. Juliet and Montgomery remaining steadfast in his faith in his lady love and fiancee and still very much in love. Juliet, who came far from the whinny girl she was in 'Her Dark Curiosity' much more world weary, she battles constantly with her darker side. Be like the madman who was her father or take after her mother. The pull of science or that of serenity .... of course her new guardian Elizabeth von Stein and her Manor full of oddities don't make that battle easy.
Lucy & Edward too played quite the role in Juliet's inner struggles. Lucy is a flighty, sometimes hilarious and aggressive when she wants to be and can piss us of too by way of her attitude. Edward meanwhile pretty much remained the same trying to fight his beast,taking poison to try and kill himself and fight this excruciating pain to stay sane. His are resolved rather quickly. I would have loved to have seen a bit more detailed execution to his problem, as he remained a problem since the first book though.
But it was the secrets of the Ballantyne manor that had us turning pages. The ancient, creepy and cold walls of the above mentioned manor hides in its walls a secret that has the makings of sending shivers down to our cores. A mastery over science never seen or experienced before. And Juliet (& us) finds herself more curious than she would have given to believe. Questions and concerns raised. Horrible acts committed. Freaks of nature awoken. Perpetrators defeated and unwitting acts of murders commenced. Horrible past left behind and promises of peaceful and hopeful new beginning realized. .... Where to draw the line ..... follow the madman father, the tragic mother or blaze her own path .....
'A Cold Legacy' in a way surmounts to a great end for the series. An almost standalone, much happens in the conclusion to give it a miss. Helped along by Shepherd's immaculate prose and the creepy cold atmosphere of the Scottish moors, great plot and character development balancing this third act brilliantly. The Terror, the horror, the science, and of nature ... all of them mixed together give this series its own personal touch. Of course the 2nd book was a disappointment but the conclusion pretty much makes up for it. Give this series a chance, you will be thoroughly amazed.
"A cold, dark and breathless page-turner"