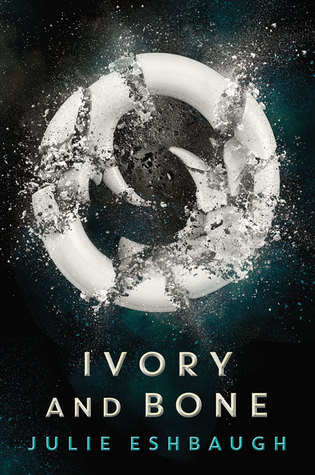 Presenting
Ivory and Bone #1 Ivory and Bone by Julie Eshbaugh
.
Here is the summary of the book:
A prehistoric fantasy—with allusions to Pride and Prejudice.

Hunting, gathering, and keeping his family safe—that's the life seventeen-year-old Kol knows. Then bold, enigmatic Mya arrives from the south with her family, and Kol is captivated. He wants her to like and trust him, but any hopes of impressing her are ruined when he makes a careless—and nearly grave—mistake. However, there's something more to Mya's cool disdain…a history wrought with loss that comes to light when another clan arrives. With them is Lo, an enemy from Mya's past who Mya swears has ulterior motives.

As Kol gets to know Lo, tensions between Mya and Lo escalate until violence erupts. Faced with shattering losses, Kol is forced to question every person he's trusted. One thing is for sure: this was a war that Mya or Lo—Kol doesn't know which—had been planning all along.
REVIEW ==
Prehistoric era meets Pride & Prejudice. That is one apt description for Julie Esbaugh's Ivory & Bone. I'd be honest what really attracted me to this book was the cover and the work Prehistoric .... because really you don't see YA in a prehistoric setting .... Well there haven't been yet (as far as I know). Ivory & Bone on the whole has a lot to recommend it but they were a lot of things too .....

Mammoths guys .... this book has mammoths and the Sabertooth tigers. Of course Pre-historic humans are far behind. Kol, Mya, and Lo form the core characters. All three hailing from different tribes and appreciated how their paths converged so well together.

Kol out of all was my favorite. Eldest son of this tribe leader. He is the ultimate nice guy. And equally stubborn when he makes his mind up about something. Mya was just plain rude and distant. And Lo had her own agenda to play.

The book is written in two alternating persons. First and Second are mixed in this plot. Of course the story is from Kol's perspective in the 1st Person but whenever Mya turn came on, it switched to 2nd Person. The transition is really much more jarring than normal. The atmosphere, while the author did a wonderful job of setting the era at first it just got boring after reading it in every scene. Also she takes too long to explain the scene or the surrounding ..... and it felt off putting and dragging at best.

There is a distant lack of females in Kol's tribe and they need the alliances. So when Mya's tribe visits. Kol hopes for Mya's attentions but she turns out to be too rude and standoffish to talk to. I can see where the Pride & Prejudice connection comes in but I don't think Darcy was that rude as Mya appears to be ..... It feels forced upon us that Mya & Kol are meant to be. But there seems to eb no connection between them. That chemistry is no where to be seen and Kol feels more likely attracted towards the idea of a female than just Mya.... So that's another thing I want to point out here.

So Mya doesn't give him the time of day but when Lo enters he seems diverted to the new arrival. Kol is a good guy really but I didn't like this aspect here ... Anyway on the whole while I quite liked the story it also couldn't keep me captivated and plainly dragged a lot. One of those cases where the hype proves detrimental for this book.

Not really sure I want to recommend this but check it out maybe you guys might like it better than me.
"Interesting but didn't very well hold my interest."
Genre : Young Adult, Pre-historic, Romance
Publisher: Harper Teen
Release Date: 7th June, 2016
My Copy: publisher & edelweiss
Rate:
3
/5 (Liked It)
Buy: Amazon | Book Depository