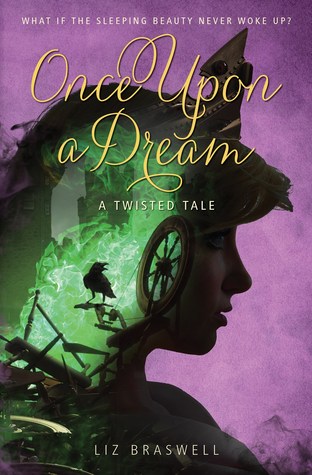 Presenting
Twisted Tales #2 Once Upon A Dream by Liz Braswell
.
Here is the summary of the book:
What if the sleeping beauty never woke up? Once Upon a Dreammarks the second book in a new YA line that reimagines classic Disney stories in surprising new ways.

It should be simple--a dragon defeated, a slumbering maiden, a prince poised to wake her. But when said prince falls asleep as soon as his lips meet the princess's, it is clear that this fairy tale is far from over.

With a desperate fairy's last curse infiltrating her mind, Princess Aurora will have to navigate a dangerous and magical landscape deep in the depths of her dreams. Soon she stumbles upon Phillip, a charming prince eager to join her quest. But with Maleficent's agents following her every move, Aurora struggles to discover who her true allies are, and moreover, who she truly is. Time is running out. Will the sleeping beauty be able to wake herself up?
The 2nd story in the Twisted Tales series. Once Upon A Dream by Liz Braswell. What if Aurora never woke up from the kiss. What if instead of breaking Sleeping Beauty out of the spell, Prince Charming too gets sucked in ..... Much much better than the first story where she dealt with Aladdin. There is definitely an improvement but somehow I still got bored with it.
This story definitely has its plus and minus points. The author takes the time to set the world. That is good. She takes the time to set the mood and environment of the story. That is definitely good. But she takes too long to get to the good arts and it lags a lot. That is definitely bad. Saw a lot of influences from the Maleficient movie (attest I felt that). Definitely good.
Despite the direction the plot took to differ itself from the classic fairytale. At the end of its story remained the same. Felt disheartened there, I wanted the 3 fairies to be the bad once here as the plot first established them as but liked how the author did the twists & turns and the reveals. Aurora was a lot whinny & petulant throughout the story. And I just got bored with it ...... But hopefully it will improve more in the next story.
"A different what-if take to the Sleeping Beauty"
Genre : Fairytale re-telling, Fantasy
Publisher: Disney Press
Release Date: 5th April, 2016
My Copy: publisher & netgalley
Rate:
2
/5 (It was Ok)
Other Books by the Author(review links):
#1 A Whole New World
Buy:
Amazon
|
Book Depository