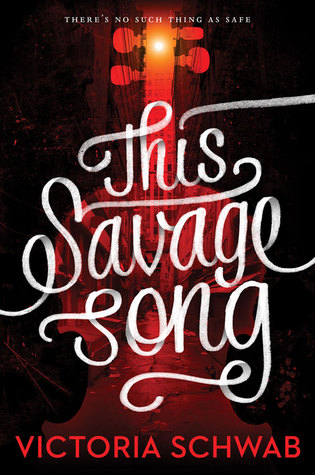 Presenting
Monsters of Verity #1 This Savage Song by Victoria Schwab
.
Here is the summary of the book:
There's no such thing as safe in a city at war, a city overrun with monsters. In this dark urban fantasy from author Victoria Schwab, a young woman and a young man must choose whether to become heroes or villains—and friends or enemies—with the future of their home at stake. The first of two books.

Kate Harker and August Flynn are the heirs to a divided city—a city where the violence has begun to breed actual monsters. All Kate wants is to be as ruthless as her father, who lets the monsters roam free and makes the humans pay for his protection. All August wants is to be human, as good-hearted as his own father, to play a bigger role in protecting the innocent—but he's one of the monsters. One who can steal a soul with a simple strain of music. When the chance arises to keep an eye on Kate, who's just been kicked out of her sixth boarding school and returned home, August jumps at it. But Kate discovers August's secret, and after a failed assassination attempt the pair must flee for their lives.
REVIEW ==
Set in the fictional Verity City, This Savage Song by Victoria Schwab proved a study onto itself. This is my first time actually reading her book. I have read excerpts of her other books but somehow never really got around to reading the whole thing. So glad I began with this one. This Savage Song proved it was worth the hype and it was just so good.
Imagine a world where your deepest, darkest secrets take shape into monsters of the worst kind. Malachai, Corsai and Sunai. One vampire like, another the monster of the worst kind and the latter, the most human looking of them all. This book has it all. A strong plot. Strong background. A dynamic and diverse cast of characters. A well paced plot and the plot tropes happening at the best opportune moments.
With a much darker atmosphere and a city overrun by monsters that go bump in the night. This Savage Song tells the story of Kate Harker of the North and August Flynn of the South side of the divided Verity City. This is a city hinging on a tentative truce between the two sides and a war looming on the horizons.
The North side is run by Callum Harker, Kate's father. The worst among the humans. He lets the monsters, the Malachai and the Corsai roam free in his quarters. Callum Harker may be the proverbial King Pin but Kate will prove that she is as ruthless as her dear old dad ..... And maybe more so .... She is as damaged as they come. Vicious, calculating, smart and hardy. She wants attention and power and definitely doesn't give a damn about toeing the line.
August, ironically was so sweet. Ironically because he .... is a monster. One of the only three Sunai that sided with Henry Flynn and the South side. He is cautious about his powers because Sunai are much more powerful than the Malachai and the Corsai. He is definitely not like siblings Leo and Ilsa. He on the other hand craves humanity, wanted to be worthy as not a monster but a real life person. And this inner conflict makes his character all the more dynamic. Making us root for him throughout.
Circumstances and the author pit them together constantly. Kate always trying to figure out the mystery that is August and him trying to blend in as his mission stated. Liked how Schwab digs deeper into the characters, lighting up their deep and dark crevices of their being. Highlighting all the good and the bad for us readers to see. Every one of these characters had it and the dialogues and monologues respectively keep us bolted to our seats, mystified at such fluid writing and the bleak images it paints before our eyes.
The best thing about this book. No Romance ... It doesn't need it to move the plot forward. There is more than enough action and drama to fill its pages and you wouldn't even notice the missing romance. Authors usually use romance to lighten the plot but This Savage Song is a noire plot and you don't need to lighten things when your trying to show the dire on-the-verge-of-war situation of the monster ridden Verity.
Very much excited for the sequel ... I recommend people, This Savage Song you don't wanna miss it out.
"A dark and enticing page turner"
Genre : Young Adult, Fantasy, Paranoramal
Publisher: Greenwillow Books
Release Date: 5th July, 2016
My Copy: publisher & edelweiss
Rate:
5
/5 (It was Amazing)
Buy: Amazon | Book Depository