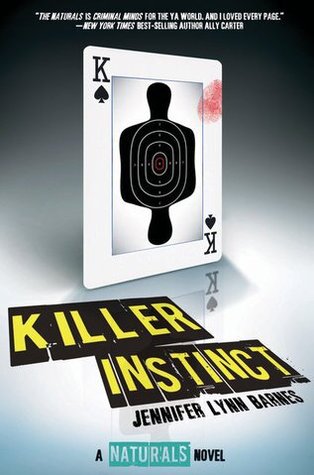 Presenting
The Naturals #2 Killer Instinct by Jennifer Lynn Barnes
.
Here is the summary of the book:
Seventeen-year-old Cassie Hobbes has a gift for profiling people. Her talent has landed her a spot in an elite FBI program for teens with innate crime-solving abilities, and into some harrowing situations. After barely escaping a confrontation with an unbalanced killer obsessed with her mother's murder, Cassie hopes she and the rest of the team can stick to solving cold cases from a distance.

But when victims of a brutal new serial killer start turning up, the Naturals are pulled into an active case that strikes too close to home: the killer is a perfect copycat of Dean's incarcerated father—a man he'd do anything to forget. Forced deeper into a murderer's psyche than ever before, will the Naturals be able to outsmart the enigmatic killer's brutal mind games before this copycat twists them into his web for good?

With her trademark wit, brilliant plotting, and twists that no one will see coming, Jennifer Lynn Barnes will keep readers on the edge of their seats (and looking over their shoulders) as they race through the pages of this thrilling novel.
Intriguingly mysterious, serial murders and the trill of the chase. Killer Instinct is the sequel to 'The Naturals' and it does not disappoint. Cassie, Lia, Sloanne, Michael and Dean are back and this time they are interfering in an active murder case. Add in a fast-paced plot, darkest of the dark secrets, the proverbial skeletons in the closet and sweet sweet romance and what you get is a sequel that more than most outdoes the first book.
The apparent character development is the most striking. We saw and loved them in book 1 and the same can be said for book 2 as well. We appreciate Cassie's loyalty. Her drive to put perps behind bars. She is a profiler and 'Killer Instinct' sees her getting more comfortable with her abilities. We see what lies under the all the numbers in Sloanne's head. Why Lia is loyal to Dean and who Michael really is under that easy smile. He cares in his own way.
Dean on the other hand saw the most development of them all. As his serial killer father continues to haunt him from behind bars. We see what makes him so closed off and hearts go out to his plight.But this case forces him to open up and deal with the situation head on, and we appreciate him more for that. Of course, romance plays a big part in this. It is surely moving forward but thankfully without exerting too much pressure on the plot.
Daniel Redding also serves a mention. There is nothing about him that is good. He is as horrible as they come. Even more so. And delights in mind games & manipulations. He may be behind bars but he knows what strings to pull and make a person tick. Agent Sterling, at first came across as a stuck-up snob. But throughout the ordeal and dealing with the 5 loosened her and we came to see her as who she truly was, what her past with Dean entailed and appreciated her more.
A fast paced plot. Marvelous writing. A murder mystery that will keep you guessing till the very end bringing you the very edge of your seats. There is not one moment here that would bore you. Great work Jennifer Lynn Barnes. If you love a good YA mystery thriller then this is for you. Highly recommended.
"Intriguingly mysterious & riveting and the Naturals are more than up for the task"
Genre :
Young Adult, Criminal Mystery, Thriller, Romance, Contemporary
Publisher:
Disney-Hyperion
Release Date: 4th November, 2014
My Copy: publisher and netgalley
Rate:
5
/5 (It was Amazing)
Other Books in the series (review links):
#1
The Naturals
Buy:
Amazon
|
Book Depository