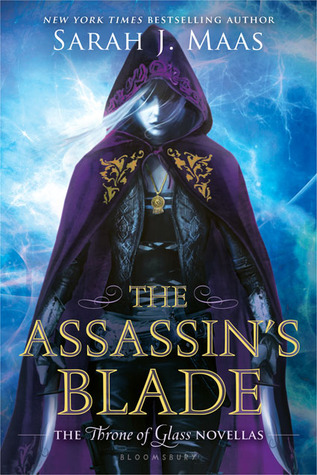 Presenting
Throne of Glass #0.1 - #0.5 The Assassin's Blade by Sarah J. Maas
.
Here is the summary of the book:
Contains all five novellas.

Celaena Sardothien is Adarlan's most feared assassin. As part of the Assassin's Guild, her allegiance is to her master, Arobynn Hamel, yet Celaena listens to no one and trusts only her fellow killer-for-hire, Sam. In these action-packed novellas - together in one edition for the first time - Celaena embarks on five daring missions. They take her from remote islands to hostile deserts, where she fights to liberate slaves and seeks to avenge the tyrannous. But she is acting against Arobynn's orders and could suffer an unimaginable punishment for such treachery. Will Celaena ever be truly free? Explore the dark underworld of this kick-ass heroine to find out.
REVIEW ==
Five instances in the life of Celaena Sardothien. Five instances before her time in Endovier. Chronologically this collection may have released much later than the main books of the series but if the time of the stories taking place is considered. All of them happened way before Throne of Glass began and it is interesting to see the Adarlan's Assassin before her imminent capture.
Not only do we see her kick-ass escapades from before. We also see the self-proclaimed 'beautiful' (that got annoying really *wink*) assassin beat down targets left and right and how Sam and her got together. ...... So sad about what happened to him. That was a bittersweet moment at the end. And those two had such an awesome chemistry too *sad face*.
Anyway I can't wait to start reading the next books. Much of the story, her story is still unclear to me and while i'm definitely disheartened for Sam Cortland. I definitely want to read what Celaena does next.
"Exciting,breathless and heartbreaking"
Genre : Anthology, Young Adult, High Fantasy, Paranormal, Romance
Publisher: Bloomsbury Children
Release Date: 4th March, 2014
My Copy: bought (ebook)
Rate:
5
/5 (It was Amazing)
Other Books by the Author(review links):
#1 Throne of Glass
Buy:
Amazon
|
Book Depository