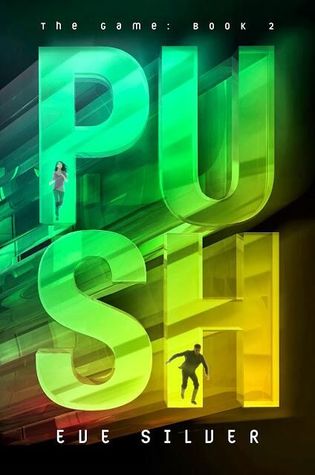 Presenting
The Game #2 Push by Eve Silver
.
Here is the summary of the book:
It's either break the rules or die.

Miki Jones lives her life by her own strict set of rules, to keep control, to keep the gray fog of grief at bay. Then she's pulled into the Game, where she—and her team—will die unless she follows a new set of rules: those set by the mysterious Committee.

But rules don't mean answers, and without answers, it's hard to trust. People are dying. The rules are unraveling. And Miki knows she's being watched, uncertain if it's the Drau or someone—something—else. Forced to make impossible choices and battling to save those she loves, Miki begins to see the Committee in a glaring new light.

And then the Game crosses a new boundary, pushes harder into Miki's and her friends' lives, and there's nothing in the rules that can save them now.

Push is the sequel Rush fans will be screaming for.
RUSH showed us a unique take on YA sci-fi dystopia, inside the confines of a war for survival turned into a deadly game strand. And sequel PUSH only serves to expand on such boundaries. Albeit suffering some 2nd book syndrome but none the less an exciting sequel.
While RUSH cleared up the mythos behind the game and the Drau much but details are still murky in PUSH. We are only offered clues, only clues. So hopefully things will be clarified in the third book. But I liked most about this book? It is purely character study. All the characters specially Miki go through some major character development. She met Jackson in the game, falls in love with him and he betrays her by using her as his replacement as team leader to earn his freedom. But at the end of book 1 he comes back to save Miki and gets takes in the process.
There is no love lost between them. Miki is still angry and feeling a little betrayed by Jackson but she loves him and is prepared to take drastic measures to keep him safe. I liked how Jackson and her relationship progressed throughout this leg of the journey. They each share a deep understanding for each other, respect and over-protectiveness in leaps and bounds. There is angst there of course but love is there too, gracious and passionate.
Lets not forget the game though. Exhilarating and action packed, this fight against the resident evil, the Drau grows deadlier by the hour. The committee grows sneakily darker and the Drau grow bolder by each mission breaking boundaries to the real world and endangering the human species and Miki and her team are fighting tooth & nail to save us all.
Still it gets a star less because of the apparent lack of plot progress. Although the action is plenty but still no sense of direction to the overall plot, which I hope will be rectified in CRASH. But good job by Eve Silver and I enjoyed every bit of this emotionally charged action packed adventure.
"An emotionally charged, action-packed sequel"
Genre :
Young Adult, Sci-fi, Paranormal, Romance, Dystopia, Survival
Publisher:
Katherine Tegen Books
Release Date: 10th June, 2014
My Copy: publisher and edelweiss
Rate:
4
/5 (Really Liked It)
Books in the series (review links):
#1 Rush
Buy:
Amazon
|
Book Depository