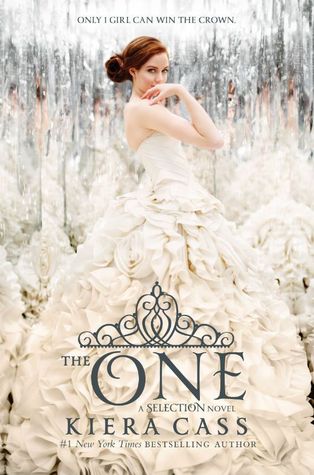 Presenting
The Selection #3 The One by Kiera Cass
.
Here is the summary of the book:
The highly anticipated conclusion to Kiera Cass's #1 New York Timesbestselling Selection series, The One will captivate readers who love dystopian YA fiction and fairy tales. The One is the perfect finale for fans who have followed America's whirlwind romance since it began--and a swoon-worthy read for teens who have devoured Veronica Roth'sDivergent, Ally Condie's Matched, or Lauren Oliver's Delirium.

The Selection changed America Singer's life in ways she never could have imagined. Since she entered the competition to become the next princess of Illéa, America has struggled with her feelings for her first love, Aspen--and her growing attraction to Prince Maxon. Now she's made her choice . . . and she's prepared to fight for the future she wants.

Find out who America will choose in The One, the enchanting, beautifully romantic third book in the Selection series!
Its judgement day. Its the conclusion. America must choose who that one would be. Maxon must choose who that one would be. Amidst intense drama, romance, of tragedies, new friendships, of sadness and new revelations. The One provides the perfect conclusion to this best selling series that not only the series but we we as readers deserve.
Of course on a certain level, we all knew who would be selected at the end but aside from the predictability on that front I adored the journey the characters took to reach such a conclusion. Only four left and competition to finally win Maxon's heart had grown tougher and even meaner.
America Singer has finally decided she wants Maxon and is prepared to fight to win his affections and trust back. And while she has this inherent quality of irritating is to no end, you have to agree that she is quite stubborn and knows to fight for hat she wants. While I did not like her hiding her feelings from Maxon on the count of the possibility of not being chosen, a lot of the drama could have been avoided if she had been forthcoming with her feelings but she is brave and very kind. I loved the development she went through throughout the competition and for all instance and purposes I adored and admired her character, all the flaws included.
Maxon, really defined the meaning of Prince Charming through his character. He is also not without flaws but he is fair in all his actions. He tries to do right by with what he is given and of course exudes positivity in the process. Choosing the one meant for him from a throng of so manis a daunting task and I liked that he tries to do right by them all. And of course his instant chemistry and gradual romance with America was swoon-worthy. Of course Team Maxon for this win!!!
Aspen on the other hand i'm not sure how I can explain how I felt about him. He is loyal, brave, stubborn and would do everything for the person he cares about. In other words very much like America. I didn't really like him in the first two books but he redeemed himself in this book to me and I loved that he understood America enough to know what she needed and decided to become friends at the end.
On the whole, a lot full-filling conclusion. Kiera Cass has done a great job tying up the loose ends. Of course it was a predictable end and felt a little rushed but I enjoyed every bit of it. Will definitely be looking forward to what Cass comes up with next.
"A full-fulling and an enchanting finale"
Genre :
Young Adult, Romance, Dystopia
Publisher:
Harper Teen
Release Date: 6th May, 2014
My Copy: bought (ebook)
Rate:
5
/5 (It was Amazing)
Books in the series (review links):
#1 The Selection
#2 The Elite
Buy:
Amazon
|
Book Depository