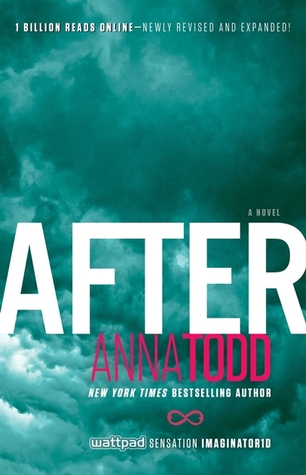 Presenting
After #1 After by Anna Todd
.
Here is the summary of the book:
Tessa is a good girl with a sweet, reliable boyfriend back home. She's got direction, ambition, and a mother who's intent on keeping her that way.

But she's barely moved into her freshman dorm when she runs into Hardin. With his tousled brown hair, cocky British accent, tattoos, and lip ring, Hardin is cute and different from what she's used to.

But he's also rude—to the point of cruelty, even. For all his attitude, Tessa should hate Hardin. And she does—until she finds herself alone with him in his room. Something about his dark mood grabs her, and when they kiss it ignites within her a passion she's never known before.

He'll call her beautiful, then insist he isn't the one for her and disappear again and again. Despite the reckless way he treats her, Tessa is compelled to dig deeper and find the real Hardin beneath all his lies. He pushes her away again and again, yet every time she pushes back, he only pulls her in deeper.

Tessa already has the perfect boyfriend. So why is she trying so hard to overcome her own hurt pride and Hardin's prejudice about nice girls like her?

Unless…could this be love?

Now newly revised and expanded, Anna Todd's After fanfiction racked up 1 billion reads online and captivated readers across the globe. Experience the Internet's most talked-about book for yourself!

There was the time before Tessa met Hardin, and then there's everything AFTER ... Life will never be the same.
REVIEW ==
Fifty Shades sure started a trend didn't it of fanfictions being given the best selling status. Hype sure goes a long way in helping it along ..... And here i'm swayed again by the hype to see what Anna Todd's NA fanfiction AFTER is all about. I may be late to the bandwagon because apparently everyone I know had already read the series or posting about it on the social media ..... but here I am finally!
First appearing on Wattpad as a One Direction fan fiction. Since then After has made a big journey to getting the best selling status. I am definitely not a fan of this series. While I did like the story better than Fifty Shades of Grey .... don't flame me but that was just bad writing, showing a bad image of females in general and plain bleeding on the ears *sighs* I had the misfortune of getting its audiobook. Worst decision of my life.
Anyway back to After, the writing is definitely far better. I liked how Todd kept the chapters short. I am definitely not a Hessa fan but calling this a a 1D fanfiction based on Harry Styles is just not happening. I am a 1D fan and portraying the performer as a manipulative guy is just not right. Of course the names are changed to Hardin here but I still didn't appreciate that fact .....
But I decided to overlook the 1D connection when I began reading this book. Good thing I did that too.
Anyways I liked Tessa as a character. She is good and reliable. With a penchant for micro-managing her life. She has the ambition to succeed in life and had a good head on her shoulder. Although she felt judgmental at times as well. Never doing anything out of the ordinary or anything unexpected. And a great boyfriend too who is very reliable but as the plot would have it she meets bad boy Hardin and it all goes down the drain.
Hardin is the definition of a bad boy. He is plain rude and most of the time verging on cruel. He had a bit of dark past to look back on and as a result, he is not the most complacent of them all. But he does have his good moments as well, when he is joking, happy or bring cocky. He doesn't like Tessa at first but they kept getting thrown in the same situations, eventually he gets attracted to her. And she in turn brought out the good side in him.
What results is a chaotic, dramatic and hot & cold romance between Tessa and Hardin. Really none of them are perfect angels but I definitely loved the dynamic bond they shared. Of course Tessa was annoying a lot of times and Hardin was pretty much a douche but somehow their day-to-day romance didn't really bore us in that regard. While I would have preferred the book not to be so long but I didn't mind it seeing and reading that explosive cliffhanger. Good one there Ms. Todd, that is sure to keep us interested ..... Poor Tessa though to be betrayed like that.....
"A chaotic hot & cold romantic pageturner"
Genre : New Adult, Contemporary, Romance
Publisher: Gallery Books
Release Date: 21st October, 2014
My Copy: bought (paperback)
Rate:
3
/5 (Liked It)
Buy: Amazon | Book Depository