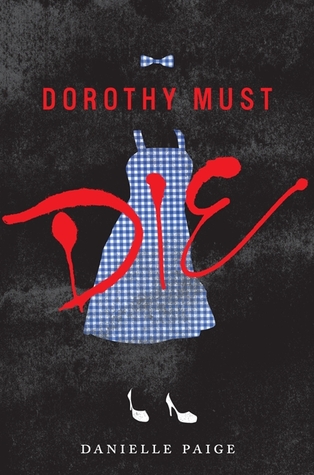 Presenting
Dorothy Must Die #1 Dorothy Must Die by Danielle Paige
.
Here is the summary of the book:
I didn't ask for any of this. I didn't ask to be some kind of hero.

But when your whole life gets swept up by a tornado - taking you with it - you have no choice but to go along, you know?

Sure, I've read the books. I've seen the movies. I know the song about the rainbow and the happy little bluebirds. But I never expected Oz to look like this. To be a place where Good Witches can't be trusted, Wicked Witches may just be the good guys, and winged monkeys can be executed for acts of rebellion. There's still a yellow brick road - but even that's crumbling.

What happened? Dorothy.

They say she found a way to come back to Oz. They say she seized power and the power went to her head. And now no one is safe.

My name is Amy Gumm - and I'm the other girl from Kansas.

I've been recruited by the Revolutionary Order of the Wicked.

I've been trained to fight.

And I have a mission.
REVIEW ==
Never really liked the stories of Oz. But I definitely loved the modern re-tellings. Be it Oz the Great and Powerful movie, the 'Wicked' play (haven't read its book series yet) and now this new re-telling ..... or rather re-imaging by Danielle Paige, Dorothy Must Die.
This is a post-apocalyptic Oz. Its dark. Its realistic. Its creepy .... Imagine what happens if the good guys turn bad. What if all that magic went to Dorothy's head. What if she came back from Kansas different. Or maybe she never left. But let me tell you this, she definitely makes for one creepy evil Queen. And she is sure not averse to ruling over all of Oz in her Gingham dress and red stilettos, leaching out all of the magic of Oz to her purpose.
Enter Amy Gumm. She is our protagonist and the other girl from Kansas. This is a world that knows the story of Dorothy's Adventures in Oz (of course they don't know if its real or not). Just like Dorothy, Amy gets transported to Oz by a tornado. But a much different Oz greets Amy. Its dark. Its desolate and upside down. Dorothy rules this new Oz and she is just evil. Thats not all, the scarecrow, thin woodman and the Lion are just as bad as well as Glinda, the Good who is evil now too.
Amy proved to be a great protagonist too. She may not be original with the less than stellar home life. A drunk mother and being alienated at school but she steps up big time in Oz. They say Dorothy is too powerful and only she could kill her. Amy knows what Dorothy has done but taking a life is not easy and for that she hesitates to find herself in this world. But she is a definite badass with pink hair. Cool.
Of course as the title suggests she knows what needs to be done but mysteries surround Oz. Amy may have joined the revolutionary Order of the Wicked, learnt magic, weaponry and etiquette but her task in not that simple. And when you have questionable motive and sides to be chosen, the one simple mission becomes all the more dangerous and convoluted.
Danielle Paige really did a great job of setting this world. Its definitely dark and creepy and vert realistic. You can't help but cringe at the gory details in it. The pacing is well maintained. At times slow but always steady. Not much really happens in this book aside from the battles in between but this is the first book of the series and totally does a great job setting the tone for the succeeding stories. Which i'm definitely going to start as soon as possible.
"A dark and topsy turvy re-imaging of Oz. The author does a great job of toeing the line between Good and Evil"
Genre : Young Adult, Fantasy, Fairytale, Re-imaging,
Publisher: Harper Collins
Release Date: 1st April, 2014
My Copy: bought (hardback)
Rate:
3
/5 (Liked It)
Buy: Amazon | Book Depository