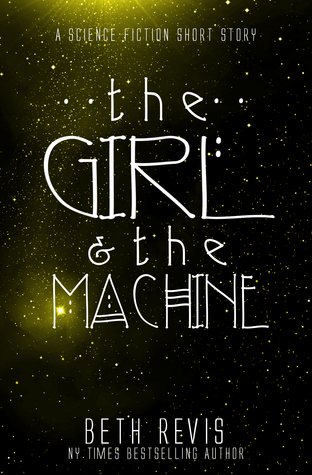 Presenting
The Girl & the Machine by Beth Revis
.
Here is the summary of the book:
This short story follows Franklin, a time traveler with limited abilities: He can only travel into the past within his own lifetime. And then a girl shows up in his life. She claims to have met a future version of himself, and that the machine she invented will help him to go anywhere in the past or the future without limitations. When Heather shows Franklin the machine, she ensures him that they will change the world together and make it a better place. But Franklin can't help but feel a little ominous about it all...

PLEASE NOTE: This short story is a part of the larger collection of short stories by Beth Revis, entitled THE FUTURE COLLECTION.
Beth Revis strikes again ...... I don't usually post reviews of short stories in general. As an anthology mostly but not a single story per say .... but this one ..... this one serves a mention. I loved Revis' 'Across the Universe' trilogy and her latest 'The Body Electric' so I decided to try this one out as well and see what it was about. I always believe that the mettle pf an author can be proved if he/she can write a convincing or say perfectly jaw-dropping short (anyone can write long novels with the right ideas) .... So I am happy to report that my belief in Revis' penmanship remains intact.
Without trying to give anything away this short introduces two unique characters Franklin and Heather. Franklin is the guy with the ability to time travel but he can only ever visit the past and never the future. Heather is the studious science student who professes to help him try to travel tot he future. Short stories don't really take the time on character development but morals they depict. We all aspire to something in the future. It is a common thought that the past is excusable and the present is all that matters but what they forget is that be it past, present or future, it is our choices and actions that make us who we are.
Seriously I was not expecting this story to be so dark and astonishing towards the end. When I began it, I thought it was just an everyday sci-fi but I am glad it proved me wrong. Worthy of note is my reaction throughout - (just like many of you have read it) ..... "Ok" ...... "Interesting" ...... "Ok looks solid" ..... "now skeptical" ..... "eye-brows raised in a frown" ...... "OMG" ....... "WOW" ...... "O. M. Freaking. G" ....... Jaw-dropping awesome ..... was not expecting it to go in such a direction ....... BRAVO BETH ..... BRAVA!
"A sci-fi short with epic astounding promises"
Genre :
Young Adult, Sci-fi, Dystopia, Time Travel
Publisher:
Scripturient Books
Release Date: 13th January, 2015
My Copy: bought (ebook)
Rate:
5
/5 (It was Amazing)
Other Books from the Author
(review links):
Across the Universe #1, #2, #3
The Body Electric
Buy:
Amazon