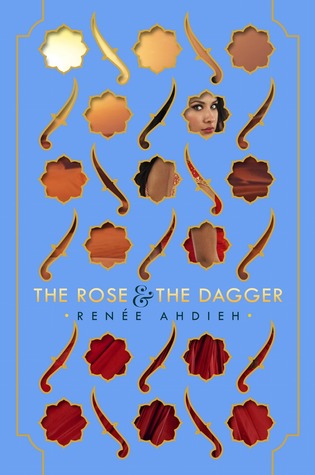 Presenting
The Wrath and the Dawn #2 The Rose & the Dagger by Renee Ahdieh
.
Here is the summary of the book:
The darker the sky, the brighter the stars.

In a land on the brink of war, Shahrzad is forced from the arms of her beloved husband, the Caliph of Khorasan. She once thought Khalid a monster—a merciless killer of wives, responsible for immeasurable heartache and pain—but as she unraveled his secrets, she found instead an extraordinary man and a love she could not deny. Still, a curse threatens to keep Shazi and Khalid apart forever.

Now she's reunited with her family, who have found refuge in the desert, where a deadly force is gathering against Khalid—a force set on destroying his empire and commanded by Shazi's spurned childhood sweetheart. Trapped between loyalties to those she loves, the only thing Shazi can do is act. Using the burgeoning magic within her as a guide, she strikes out on her own to end both this terrible curse and the brewing war once and for all. But to do it, she must evade enemies of her own to stay alive.

The saga that began with The Wrath and the Dawn takes its final turn as Shahrzad risks everything to find her way back to her one true love again.
REVIEW ==
Enchanting. Breathless. Intense and magical. 'The Rose and the Dagger' is the second book in the series and the finale and by God it does justice to Shahrzad and Khalid's sweeping romance. Ahdieh successfully manages to ensnare us all over again with the dreamlike flow of her tale and spins a most worthy finale.
Khalid and Shazi ..... Shazi and Khalid *sighs* ..... If you thought The Wrath and the Dawn was brilliant? Well The Rose and the Dagger it turns out is more than enough of a match. Every instance, every facets and all of it nuances make this finale worthy to behold. Add that the brilliance of our lead couple and every other secondary characters was a utilization in perfection. Really this series can do no wrong and i'm happy the author maintains that flow never slowing down.
There was swooning (over Khalid *wink*) ..... Heartbreak. A general sense of peace and rude realization that keep us readers fixed to our seats. The feels felt tangible and given just the leeway tugs us in when we least expected it. The ending did feel rushed but the overall fierce romance and excitement with both Shazi and Khalid and all the secondary characters was definitely a 'magical' experience to be had. Suffice it to say I am a huge fan.
"Magical, enticing and exotic. A conclusion worthy of the love of Shazi & Khalid"
Genre : Young Adult, Fairytale re-telling, Romance, Historical Fiction
Publisher: G.P. Putnam's Books for Young Readers
Release Date: 26th April, 2016
My Copy: bought (hardback)
Rate:
5
/5 (It was Amazing)
Other Books by the Author(review links):
#1 The Wrath & the Dawn
Buy:
Amazon
|
Book Depository