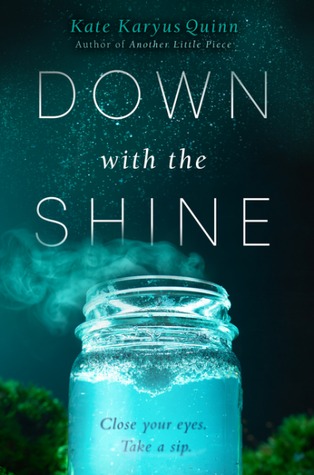 Presenting
Down With The Shine by Kate Karyus Quinn
.
Here is the summary of the book:
Make a wish…

Lennie always thought her uncles' "important family legacy" was good old-fashioned bootlegging. Then she takes some of her uncles' moonshine to Michaela Gordon's annual house party, and finds out just how wrong she was.

At the party, Lennie has everyone make a wish before drinking the shine—it's tradition. She toasts to wishes for bat wings, for balls of steel, for the party to go on forever. Lennie even makes a wish of her own: to bring back her best friend, Dylan, who was murdered six months ago.

The next morning gives Lennie a whole new understanding of the phrase be careful what you wish for—or in her case, be careful what wishes you grant. Because all those wishes Lennie raised a jar of shine to last night? They came true. Most of them came out bad. And once granted, a wish can't be unmade…
Really disheartened with this book. wishes gone wrong and the protagonist's desperate attempt to right it all. The idea alone scores a great plot and really has been done a lot before .... I get the author was trying something different with bootlegger Moonshine added in the mix but the finished product really doesn't give me that wow feeling of a great story I was expecting it to be. And I expected a lot too .....
Lennie Cash is our protagonist. She is the outsider, the daughter of a dangerous criminal father and niece ti her three illegal Moonshine brewing Uncles. Something happens, the automatic blame gets placed on her and many problem hence follow. In other words, Lennie for most parts can be constituted as a train-wreck. She tries but she is definitely not a goody two-shoes and I liked it about her. And there is that pesky little mystery of the brutal mutilation of her best friend laying heavy in everyone's mind too.
I actually liked how the story began. When Lennie discovers that not only is Moonshine a rather lucrative business to her Uncles, their silly rituals for a buyer to have the first toast and make their wishes come true is also frighteningly real ..... But of course its too late for prevention because of the massive wish-granting spree she stumbled on at a party full of drunk teenagers. Wish granting is a family trade and Lennie just came into her inheritance.
Kate Karyus Quinn touches on not only the silly and the crazy but also upon the darkness of murder and mutilation. But somehow the inherent balance of elements gets lost in translation. The first act of the book felt very well done, building it up to the possible crescendo and then the wish-granting party pretty much destabilized what it lead to from the beginning with all the crazy and the silly.
Suddenly it all just barrels forward with its insane plot, all interest forgotten. It touches upon the darkness (case in point - a particular scandalous scene with an adult) in the story but it doesn't stay and moves on to the next part. It also focused to much on the teen angst between Lennie and Smith. Not cool at all. Sorry didn't see the point of that. The ending itself felt like a cop out since apparently you can wish the bad away with another wish *sigh*. So no, this book wasn't for me, maybe you all with find it more interesting than my experience.
"The darkness, the humor and the crazy. Quinn's latest offering sadly looses my interest"
Genre : Young Adult, Paranormal, Urban Fantasy
Publisher: Harper Teen
Release Date: 26th April, 2016
My Copy: publisher & edelweiss
Rate:
2
/5 (It was Ok)
Buy: Amazon | Book Depository