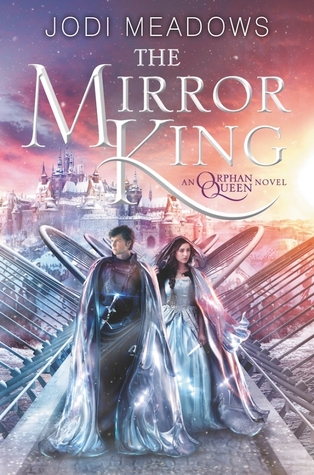 Presenting
The Orphan Queen #2 The Mirror King by Jodi Meadows
.
Here is the summary of the book:
Wilhelmina has a hundred enemies.

HER FRIENDS HAVE TURNED. After her identity is revealed during the Inundation, Princess Wilhelmina is kept prisoner by the Indigo Kingdom, with the Ospreys lost somewhere in the devastated city. When the Ospreys' leader emerges at the worst possible moment, leaving Wil's biggest ally on his deathbed, she must become Black Knife to set things right.

HER MAGIC IS UNCONTROLLABLE. Wil's power is to animate, not to give true life, but in the wraithland she commanded a cloud of wraith mist to save herself, and later ordered it solid. Now there is a living boy made of wraith—destructive and deadly, and willing to do anything for her.

HER HEART IS TORN. Though she's ready for her crown, declaring herself queen means war. Caught between what she wants and what is right, Wilhelmina realizes the throne might not even matter. Everyone thought the wraith was years off, but already it's destroying Indigo Kingdom villages. If she can't protect both kingdoms, soon there won't be a land to rule.

In this stunning conclusion to THE ORPHAN QUEEN, Jodi Meadows follows Wilhelmina's breathtaking and brave journey from orphaned criminal on the streets to magic-wielding queen.
Its intense. Its complex. Its intrigue and its magic. It is 'The Mirror King' by Jodi Meadows and the sequel and much coveted finale to the duology of the Orphan Queen. There is satisfaction, the chance of strong attraction, heartbreak & heartache, the contrivance and the conspiracies of court life. The hesitance of leadership, the ever approaching wraith and deadly enemies everywhere. This is a gorgeously detailed masterpiece in a gorgeously attired book.
Picks up right after the heart breaker cliffhanger in the Orphan Queen. The secret is out. Wilhemina must not only evade and overcome corporeal enemies but also battle the demons in herself. Does she what it takes to be Queen? Is she ready for Aecor? Is she ready to set things right. And that tenuous alliance with Tobiah when she know who is truly is. Meadows really left nothing out while she unearthed every other nuances of Wil. She is a strong and kick-ass heroine no doubt but the level of finality she reaches in this book and how she reaches it is what matters. She is definitely resilient throughout the ordeal.
Tobiah too showed much of himself here. Like Wil, he too had come far from the vigilante Crown Prince of Skyvale. Romance of course wasn't the focus but it was there and it was an excruciating slow burn. There are many hurdles in their way, some more heartbreaking than others. I liked the gradual development of his relationship with Wil. Tobiah wasn't only supporter but also her rock. Whenever she doubted her capabilities as monarch, he consoled and set her straight. What she is going through, he already did. Their to and fro bantering sure brought smiles on all of our faces.
There is much more I want to say but I really don't want to spoil anything for those who haven't yet read it. But James was visibly the sweetest and kindest. And that wraith boy was definitely the creepiest of the lot. Jodi Meadows has created a whole world unto itself. Really you just need to .... no you have to experience this exotic manuscript by yourself too see. My only gripe ... no epilogue. I wanted one .... But loved it and i totally recommend it too.
"A highly satisfying, highly enticing and a breath-taking finale"
Genre : Young Adult, Paranormal, Romance, High Fantasy, Dystopia
Publisher: Katherine Tegen Books
Release Date: 5th April, 2016
My Copy: publisher & edelweiss
Rate:
5
/5 (It was Awesome)
Other Books by the Author(review links):
Newsoul
#1 #2
The Orphan Queen #1
Buy:
Amazon
|
Book Depository