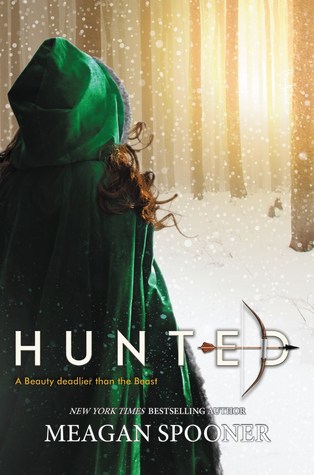 Presenting
Hunted by Meagan Spooner
.
Here is the summary of the book:
Beauty knows the Beast's forest in her bones—and in her blood. Though she grew up with the city's highest aristocrats, far from her father's old lodge, she knows that the forest holds secrets and that her father is the only hunter who's ever come close to discovering them.

So when her father loses his fortune and moves Yeva and her sisters back to the outskirts of town, Yeva is secretly relieved. Out in the wilderness, there's no pressure to make idle chatter with vapid baronessas…or to submit to marrying a wealthy gentleman. But Yeva's father's misfortune may have cost him his mind, and when he goes missing in the woods, Yeva sets her sights on one prey: the creature he'd been obsessively tracking just before his disappearance.

Deaf to her sisters' protests, Yeva hunts this strange Beast back into his own territory—a cursed valley, a ruined castle, and a world of creatures that Yeva's only heard about in fairy tales. A world that can bring her ruin or salvation. Who will survive: the Beauty, or the Beast?
REVIEW ==
Score 1 for 'fantasy' and a well written re-imaging of a fan favorite tale of Beauty and the Beast. And most of all Hunted by Megan Spooner stands on its own two feet. Fairytale while the name may suggest otherwise are not a cutesy depiction of life, nor does every stories ends in a happy ever after.... Well before Disney got their hands on those stories, when they were just word of mouth and fireside tales. Beauty and the Beast likewise had its serious issues.... *coughs* Stockholm Syndrome *cough**cough*.
Moreover this is Yeva and the Beast's tale. Yeva is definitely no damsel in distress neither does she contain an ounce of naivete in her person but she is kind, passionate, selfless and kickass in her own rights. Beast on the other hand, i did not know what to think about. Disney animated version kept his earlier appearance more animal like and even the live action played close to that. So i am happy to report that Spooner's Beast was just the same, if not a bit more. While we felt sad for his circumstances. For this Beast we did not know how his situation came about. So at first we feel quite angry with him because he is quite forceful with her.
But it falls to the mettle of the author to make or break a character, likewise making us feel for such characters. Thus I particularly like how we feel for Yeva and her family's situation, her rough treatment at the hands of the Beast and how she unearths the secrets of the Beast, his castle and the strange new world she finds herself in. We get a much more in-depth look to the characters of the Beast and Yeva than what we usually get. While never naming names, the wordplay and the prose is articulate enough to keep us apprised of the situation and scenes.
The setting for the tale also gives it some credit. It is set in Russia for the most part and magic and the magical is a rather common practice for these people. That said Spooner created a magical atmosphere for the castle to reside in and it was definitely a marvel to experience each and every one of them as we further into the story. Happily dragging us along for the ride with just the turn of the page.
"Exotic and just the right amount of magic to get this adaptation of the Beauty and the Beast to newer heights"
Genre : Young Adult, Fairytale re-telling, Romance
Publisher: HarperTeen
Release Date: 14th March, 2017
My Copy: publisher & edelweiss
Rate:
4
/5 (Really liked It)
Other Books by the Author(review links):
Starbound (with Amie Kaufman)#1 #2
Buy:
Amazon
|
Book Depository