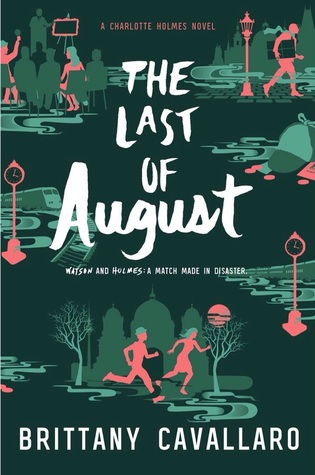 Presenting
Charlotte Holmes #2 The Last of August by Brittany Cavallaro
.
Here is the summary of the book:
Watson and Holmes: A match made in disaster.
Jamie Watson and Charlotte Holmes are looking for a winter-break reprieve after a fall semester that almost got them killed. But Charlotte isn't the only Holmes with secrets, and the mood at her family's Sussex estate is palpably tense. On top of everything else, Holmes and Watson could be becoming
more
than friends—but still, the darkness in Charlotte's past is a wall between them.
A distraction arises soon enough, because Charlotte's beloved uncle Leander goes missing from the estate—after being oddly private about his latest assignment in a German art forgery ring. The game is afoot once again, and Charlotte is single-minded in her pursuit.
Their first stop? Berlin. Their first contact? August Moriarty (formerly Charlotte's obsession, currently believed by most to be dead), whose powerful family has been ripping off famous paintings for the last hundred years. But as they follow the gritty underground scene in Berlin to glittering art houses in Prague, Holmes and Watson begin to realize that this is a much more complicated case than a disappearance. Much more dangerous, too.
What they learn might change everything they know about their families, themselves, and each other.
REVIEW ==
The dreaded book 2 syndrome all over again. The last of August while a smart followup, missed the charm and wit of the first book. There is also not much in way of a family tree provided because there are way too many Holmes and Moriarty(s) to keep track of.
While Jaime and Charlotte are still stumbling through their relationship, with the latter hefting a closet full of skeletons. Things are no longer just confined to the boarding school... Although I sorely missed it, when those two were still learning about each other. I did like the art forgery ring aspect of the story. And what all the plucky detectives have to do to unearth the truth.
While I do understand why Charlotte is the way she is but that hot & cold attitude started to get irritating real fast. Sadly that is pretty much what I found good enough for this story. It's biggest fault being that the author doesn't offer much in the way of remembering the events of the previous book. Hopefully the next one will be much better.
"There is room for improvement but a strapping adventure nonetheless"
Genre : Young Adult, Contemporary, Romance, Mystery, Detective, Teen Angst
Publisher: Katherine Tegen Books
Release Date: 14th February, 2017
My Copy: publisher & edelweiss
Rate:
4
/5 (Really Liked It)
Other Books by the Author(review links):
#1 A Study in Charlotte
Buy:
Amazon
|
Book Depository