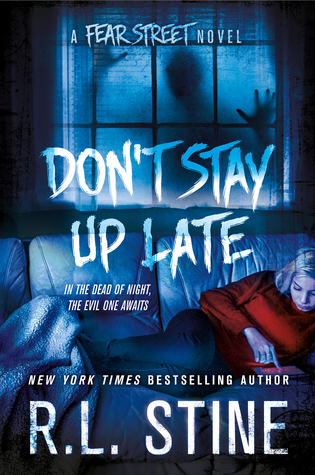 Presenting
Fear Street Relaunch #2 Don't Stay Up Late by R.L. Stine
.
Here is the summary of the book:
The second new book in the re-launch of R.L. Stine's Fear Street series, which sold 80 million copies around the world, making it one of the bestselling young adult series of all time.

R.L. Stine's hugely successful young adult horror series Fear Street is back after almost 2 decades. Fear Street is a worldwide phenomenon and helped to kick off the young adult craze which is still going strong today. In the second new book in this series, Don't Stay Up Late, Stine explores the unbridled terror of a damaged young lady sent on a doomed babysitting job.

Ever since a car accident killed her father and put Lisa and her mother into the hospital, Lisa can't think straight. She's plagued by nightmares and hallucinations that force her to relive the accident over and over again in vivid detail. When Lisa finds out that a neighbor is looking for a babysitter for her young son, she takes the job immediately, eager to keep busy and shake these disturbing images from her head.
But what promised to be an easy gig turns terrifying when Lisa begins to question exactly who — or what — she is babysitting.

R.L. Stine makes his triumphant return to Shadyside in the new Fear Street book Don't Stay Up Late.
Like many of you all R. L. Stine's books formed a major part of my school years. Those were the years before I became the literature junkie today and they made for great spooky read too. I never preferred the horror paraphernalia much so Stine's brand of the scary appealed to me very much. Keeping that in mind and anticipating the same I sat down to read 'Don't Stay Up Late'.
Finishing it, I will only say .... I may have outgrown Goosebumps and Fear Street. I would have liked it more were I much more younger than today. The same clucky writing, and the - I asked, I said, I went , of years past proved that I am not the right demographic for his books anymore. As an adult coming across newer and newer paranormal genre stories my preferences have changed, particularly the horror sub-genre has seen many new writers coming-up with more and more ways of giving their readers nightmares.
Not trying to be rude really, I love R.L. Stine and his books very much but I just ..... this book disappointed me. Don't Stay Up Late has got a great setting, and great ingredients to bring in the scare factor but it fails on a lot of front for me and I was disheartened.
But really i'll say it again if you are a fan then you should check it out and form your opinions from there.
"If you are a fan of those cheesy horror movies then give it a try"
Genre : Children's Fiction, Horror, Paranormal
Publisher: St. Martin's Griffin
Release Date: 7th April, 2015
My Copy: publisher & netgalley
Rate:
2
/5 (It was Ok)
Buy: Amazon | Book Depository