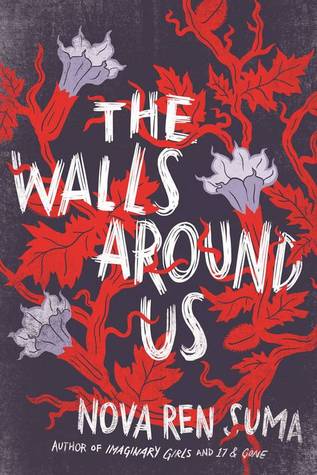 Presenting
The Walls Around Us by Nova Ren Suma
.
Here is the summary of the book:
"Ori's dead because of what happened out behind the theater, in the tunnel made out of trees. She's dead because she got sent to that place upstate, locked up with those monsters. And she got sent there because of me."

The Walls Around Us is a ghostly story of suspense told in two voices—one still living and one long dead. On the outside, there's Violet, an eighteen-year-old dancer days away from the life of her dreams when something threatens to expose the shocking truth of her achievement. On the inside, within the walls of a girls' juvenile detention center, there's Amber, locked up for so long she can't imagine freedom. Tying these two worlds together is Orianna, who holds the key to unlocking all the girls' darkest mysteries.

We hear Amber's story and Violet's, and through them Orianna's, first from one angle, then from another, until gradually we begin to get the whole picture—which is not necessarily the one that either Amber or Violet wants us to see.

Nova Ren Suma tells a supernatural tale of guilt and innocence, and what happens when one is mistaken for the other.
"Your focus determines your reality" ...... sorry couldn't resist quoting Star Wars here but seriously readers this book requires your focus because if you loose that then you will never be able to make a head or tail of this complex-ly marvelous convoluted piece of part psychological thriller, part magical realism extravaganza. Its a bit long, rather depressing, and somewhat confusing, messes with the head and you just can't help not ask - "What the hell is going on here?"
This is my first time with Nova Ren Suma and I exactly did just that. Don't take me otherwise, I liked it actually ..... very much. My point is, the plot is a rather mysterious complicated fuzzy mess, so you really need the concentration to understand what is going on or you will just keep re-reading stuff. The Walls Around Us tells its story through two girls, Amber & Violet. One convicted of killing her stepfather, the other an aspiring Ballerina with too much ambition for her own good ..... and through their voices we come to know the person of interest Orianna, known to all as the 'Bloody Ballerina'.
In a way this is the most depressing book I ever read, so while I recommend small doses, I found the approach of full steam ahead much better. Tauntingly mysterious, with its fair share of murder, corpses, guilt, derision, juve, acute mental disorders and plain erratic story tellers (Amber & Violet). this turns out to be a bumpy ride ..... Who is lying? Who is real? Does it all really happen or is it all a product of their minds.
The story is of course difficult to follow. But that is where the fun lies. Little by little as the layers peel off you start to appreciate the genius of the author because we jump timelines between the the girls which would not be clear if you don't focus. Really the book is one big puzzle and Nova Ren Suma, the master manipulator pulling the strings pulls us readers into her dark and eerie tale kicking & screaming and little willing ..... because at the end of it what really is in our heads is that - 'I am not putting it down until I find out the ending'.
It takes time to deduce the ending but really, it is a challenging piece, atmospheric, provocative, quite disturbing and immensely satisfying. I have come to associate the eerie and dark where Ballet is considered with the psychological thriller genre .... just look at the movie 'Black Swan'. Anyways you have made a new fan in me Nova Ren Suma.
"A mysteriously provocative and eerily tragic number with a ghostly touch"
Genre : Young Adult, Paranormal, Magical Realism, Psychological Thriller
Publisher: Algonquin Young Readers
Release Date: 24th March, 2015
My Copy: publisher & netgalley
Rate:
4
/5 (Really Liked It)
Buy: Amazon | Book Depository