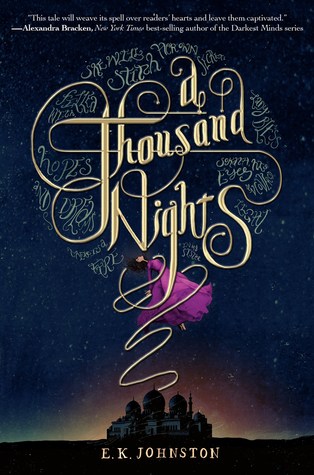 Presenting
A Thousand Nights by E.K. Johnston
.
Here is the summary of the book:
Lo-Melkhiin killed three hundred girls before he came to her village, looking for a wife. When she sees the dust cloud on the horizon, she knows he has arrived. She knows he will want the loveliest girl: her sister. She vows she will not let her be next.

And so she is taken in her sister's place, and she believes death will soon follow. Lo-Melkhiin's court is a dangerous palace filled with pretty things: intricate statues with wretched eyes, exquisite threads to weave the most beautiful garments. She sees everything as if for the last time. But the first sun rises and sets, and she is not dead. Night after night, Lo-Melkhiin comes to her and listens to the stories she tells, and day after day she is awoken by the sunrise. Exploring the palace, she begins to unlock years of fear that have tormented and silenced a kingdom. Lo-Melkhiin was not always a cruel ruler. Something went wrong.

Far away, in their village, her sister is mourning. Through her pain, she calls upon the desert winds, conjuring a subtle unseen magic, and something besides death stirs the air.

Back at the palace, the words she speaks to Lo-Melkhiin every night are given a strange life of their own. Little things, at first: a dress from home, a vision of her sister. With each tale she spins, her power grows. Soon she dreams of bigger, more terrible magic: power enough to save a king, if she can put an end to the rule of a monster.
With the rage of re-tellings in the literary sphere, particularly of fairytales and folktales of the Western world, it is now time to look towards the scorching hot Arabia. While Aladdin, Alibaba and the forty thiefs and Sindbad The Sailor have already been part of the Western culture for quite sometime. The end of the year 2015 seems particularly rife with re-tellings and re-imaginings of the Arabian Nights. It is time to look towards newer avenues, like 'One Thousand and One Nights'. E.K. Johnston's A THOUSAND NIGHTS is one such re-telling of the classic and while it got mixed reviews, I on the other hand liked the mysticism of the approach.
A Thousand Nights, on a closer look loosely follows the original tale and adding magic and magical realism to its plot. Wildly universal in its approach, the story follows the King Lo-Melkiin, a good man but changed to a much crueler variety after a hunt in the desert gone bad. Since then none of his wives survive the first night of marriage, each and everyone of them mysteriously dying off. But then with his current wife, he pauses. She survives Lo-Melchiin on their wedding night when others had died. This one is brave. This one dauntless. This one proves worthy. This one volunteered in place of her sister. This one had magic of her own.
While the original version of the tale tells of the emotion at play, E.K. Johnston's A Thousand Nights depends all the most on magic. Universal in its plot is the element of magic. Pretty much everyone has it. Lo-Melchiin has it, his 'wife' has it, her sister has it and apparently their mothers know it too. Another thing to add pretty much all the characters are nameless aside from Lo-Melchiin. Our protagonist is only referred to as "Lady Bless", "Star of my Skies" and so on throughout the stretch of the book and likewise for all of them. The language of the book while English (obviously!) has a formal touch and clearly the author was trying to portray that this is happening in the Arab country and back in time. So it does take a bit getting used to but once you get past the slow, you can enjoy the beauty and majesty of this standalone re-telling.
The plot of the book has a much darker tone than what you would expect. As such romance does not play a part in this tale. Of course there are hints of it but that's just about it and I appreciate it very much for it. We know the dark intentions of Lo-Melchiin. We know his wife realizes the truth about him and while fearing for her death, stands tall to battle whatever 'her husband' throws at her and tries her best to save anybody that comes in the crossfire. We observe a silent kingdom fearing the demon King, who was once a good man. We know the "sister's" determination to make certain of Lady Bless's survival and ensure the end of Lo-Melchiin. But most of all we observe Johnston spinning and weaving a timeless classic, in her own style filled with lush and vibrant details, with a magic that defies all bounds and awes us with its mystical majesty.
"Magically exotic. Lush. Vibrantly detailed. A Classical re-telling"
Genre : Young Adult, Re-telling, Paranormal, Fantasy
Publisher: Disney Hyperion
Release Date: 6th October, 2015
My Copy: publisher & netgalley
Rate:
4
/5 (Really Liked It)
Buy: Amazon | Book Depository