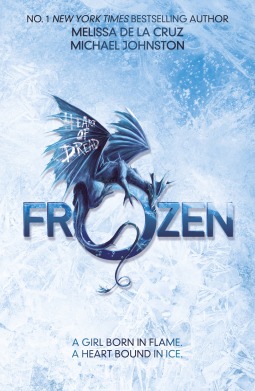 Presenting
Heart of Dread #1 Frozen by Melissa de la Cruz & Michael Johnston
.
Here is the summary of the book:
From New York Times bestselling author Melissa de la Cruz and Michael Johnston comes this remarkable first book in a spellbinding new series about the dawn of a new kind of magic.

Welcome to New Vegas, a city once covered in bling, now blanketed in ice. Like much of the destroyed planet, the place knows only one temperature—freezing. But some things never change. The diamond in the ice desert is still a 24-hour hedonistic playground and nothing keeps the crowds away from the casino floors, never mind the rumors about sinister sorcery in its shadows.

At the heart of this city is Natasha Kestal, a young blackjack dealer looking for a way out. Like many, she's heard of a mythical land simply called "the Blue." They say it's a paradise, where the sun still shines and the waters are turquoise. More importantly, it's a place where Nat won't be persecuted, even if her darkest secret comes to light.

But passage to the Blue is treacherous, if not impossible, and her only shot is to bet on a ragtag crew of mercenaries led by a cocky runner named Ryan Wesson to take her there. Danger and deceit await on every corner, even as Nat and Wes find themselves inexorably drawn to each other. But can true love survive the lies? Fiery hearts collide in this fantastic tale of the evil men do and the awesome power within us all.
Heard a lot about Melissa de la Cruz but Heart of Dread series is my first foray into her writing. Also Michael Johnston is her husband. Thus this is another of their literary ventures together. A lot of authors publish stories they have written with their spouses but this is my first time with one. And for me it was an okay experience.
Frozen. Now the name always springs to mind Elsa, Anna, Kristoff, Olaf and Sven from Disney's Frozen. But that is not so. Melissa de la Cruz and Michael Johnston's Frozen is a post-apocalyptic dystopian world covered in ice from end to end. In this bleaker than though atmosphere, all manner of creatures have risen, Drakon, Zombies, Sylphs, Dwarfs and the like. And since everyone seems to have similar colored features, sot the ones that are different, particularly the eyes are the freaks. They are called the 'Marked'.
Marked with physical signs afford them unique abilities. Namely, telekinesis, elemental magics & illusionists. Nat is our protagonist and she is marked. A young blackjack dealer in New Vegas and like many before her wants to go in search of this mystical paradise 'the blue', which can only be accessed after traversing a treacherously impossible journey. And for that she needs the help of Wes and his ragtag group of mercenaries.
The premise sounds a lot like "Under the Never Sky" doesn't it? And while I liked Veronica Rossi's books, somehow Frozen bored me. The characters were okay. The plot had its merits and some of the elements sounded well put in. But on the other hand not much dept could be gauged from the characters and their background. This is technically an on the road story, so those kinds never held my interest. Editing also needed a bit of work.
While I mentioned that the characters did not have a lot of dept in them. Some of them still had something to tell. Natasha Kestral is the reason for this story. She is the protagonist but I didn't think much of her. She has some mysterious powers. A voice inside her head but aside from that its really clear at first.
Boy-toy, Ryan Wesson on the other hand was explored in detail. Hardened yet quite a soft mercenary, he knows his way around this destroyed ice covered planet. Quite a smart aleck he brought a bit of zing to an otherwise frozen in boredom tale. And the fantasy part was what I loved the most. But the ending felt the worst. That was nothing but fishing out a minute plot element to latch onto for a sequel and I don't like when it happens. I am hesitant about the sequel but I want to check out how the authors carve out 'the blue'.
"A lukeworm beginning for me"
Genre :
Young Adult, Paranormal, Romance, Post Apocalyptic, Dystopia
Publisher:
Orchard Books
Release Date: 2nd October, 2014
My Copy: publisher & netgalley
Rate:
2
/5 (It was Ok)
Buy: Amazon | Book Depository