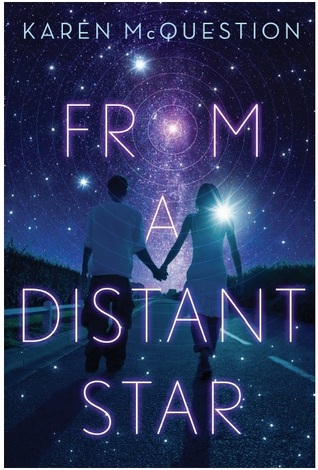 Presenting
From a Distant Star by Karen McQuestion
.
Here is the summary of the book:
Seventeen-year-old Emma was the only one who hadn't given up on her boyfriend, Lucas. Everyone else—his family, his friends, his doctors—believed that any moment could be his last. So when Lucas miraculously returns from the brink of death, Emma thinks her prayers have been answered.

As the surprised town rejoices, Emma begins to question whether Lucas is the same boy she's always known. When she finds an unidentifiable object on his family's farm—and government agents come to claim it—she begins to suspect that nothing is what it seems. Emma's out-of-this-world discovery may be the key to setting things right, but only if she and Lucas can evade the agents who are after what they have. With all her hopes and dreams on the line, Emma sets out to save the boy she loves. And with a little help from a distant star, she might just have a chance at making those dreams come true.
The cover attracted me but when I read it ..... well it didn't feel upto what I expected did it. I was sorely tempted to DNF it but decided to stay on it. This is the story of Emma and Lucas. Who is on his deathbed and then his body get taken over by an alien.
There are things about Emma I liked and things I didn't like. It is admirable that she fights to keep her boyfriend alive even when his family have given up on him or even when she doesn't have the support of his parents, the mother most of all. SHe is prepared to even knock on the Witch's door, if that is what would cure him or cancer ..... But on the other hand, she felt very much *pardon my language* pathetic.
She felt too dependent on Lucas. Treating him like a life support. Like she won't be able to go on if Lucas dies. She felt immature and very very clingy. Writing emails of their escapades in life, so that their future kids would know what went on or harassing *almost* those who even think of making moves on her guy ...... So she felt like a total bi*** in that sense.
Then comes the point where the alien 'scout' jacks Lucas' body after accidentally crash landed in their backyard. Really scout was probably the only one I actually liked in this book. While Emma slowly warms up to Scout pretty soon. They don't start best. She doesn't like Lucas' body hi-jacked (neither should anybody) and is particularly nasty to Scout, who knows almost nothing about Earth. The synopsis of the book proclaims a love story, very little of that but what we do get is a cute friendship. And the plot just dragged on. Really amidst such inconsistencies it is apparent enough that this book wasn't for me.
"A watered down close encounter of the third kind"
Genre : Young Adult, Sci-fi, Romance, Contemporary
Publisher: Skyscape
Release Date: 19th May, 2015
My Copy: publisher & netgalley
Rate:
2
/5 (It was Ok)
Buy: Amazon | Book Depository