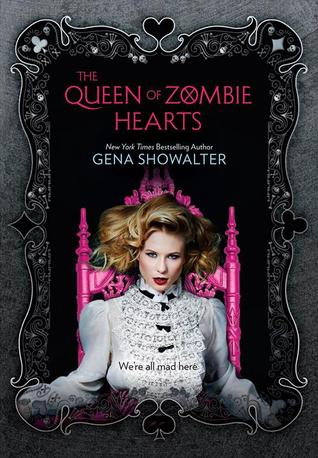 Presenting
White Rabbit Chronicles #3 The Queen of Zombie Hearts by Gena Showalter
.
Here is the summary of the book:
I have a plan.

We'll either destroy them for good, or they'll destroy us.

Either way, only one of us is walking away.

In the stunning conclusion to the wildly popular White Rabbit Chronicles, Alice "Ali" Bell thinks the worst is behind her. She's ready to take the next step with boyfriend Cole Holland, the leader of the zombie slayers…until Anima Industries, the agency controlling the zombies, launches a sneak attack, killing four of her friends. It's then she realizes that humans can be more dangerous than monsters…and the worst has only begun.

As the surviving slayers prepare for war, Ali discovers she, too, can control the zombies…and she isn't the girl she thought she was. She's connected to the woman responsible for killing—and turning—Cole's mother. How can their relationship endure? As secrets come to light, and more slayers are taken or killed, Ali will fight harder than ever to bring down Anima—even sacrificing her own life for those she loves.
Explosive, breathless, nonstop, sizzling ...... I can keep listing adjectives but it still won't be able to explain just how much of a supernova this book is or how much I loved every bit of it. A year ago I would have called this a heart stopping finale ...... In a way it is but now it is not the series finale because there is one more book that comes after it. But back on topic ...... if it was possible, Queen of Zombie Hearts was even more phenomenal than its predecessors.
Riveting. Not one breathing space. Not one moment to spare. Explosive and emotionally charged till the end. This is the fight they had been yearning for. Pitted against Anima Industries, this is not a battle to be easily won. Casualties are many and dire. Some not easily forgotten with heartbreaking losses. But the slayers stand tall against their sworn enemy and not backing out till the end.
Ali had had a rough year. She lost her family, came to live with her grandparents and is now able to see zombies. Not to be deterred, she has friends now, learned to fight the Z's and fell in love with boss-man bad-boy Cole Holland, who is just too sexy, hot and adorable to compare. Love and heartbreak, adventures and excitement, her life had been full of them but she doesn't let the bad ones consume her but learn from them and come out better...... I liked that she was extra snarky here and her quirks make her even more adorable. Cole practically worships the grounds she walks on. They both had a lot of growing up to do but we definitely like the place their relationship has reached. My favorite bookish couple by all means.
Gena Showalter just keeps hitting us with everything here. Surprise revelations. New powers. New characters. Heartbreaking, heart racing and heart-stopping moments aplenty. Loose ends tied and jaw-dropping questions are answered. Definitely the best book of the series with the author pulling in all the stops imaginable. An absolutely phenomenal roller coaster ride of a book that will have us coming back for more. Truly sensational.
"Heartstopping. Sizzling, Phenomenal"
Genre : Young Adult, Paranormal Romance, Urban Fantasy, Classic Re-imaging
Publisher: Harlequin Teen
Release Date:
30th September, 2014
My Copy: bought (ebook)
Rate:
5
/5 (It was Amazing)
Other Books in the Series(review links):
Buy:
Amazon
|
Book Depository