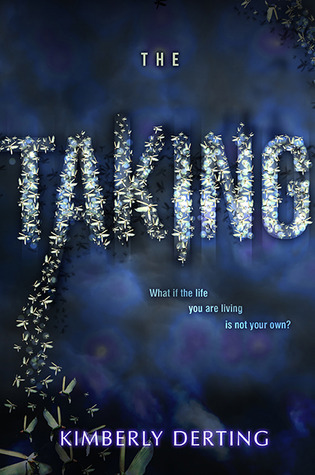 Presenting
The Taking #1 The Taking by Kimberly Derting
.
Here is summary of the book:
A flash of white light . . . and then . . . nothing.

When sixteen-year-old Kyra Agnew wakes up behind a Dumpster at the Gas 'n' Sip, she has no memory of how she got there. With a terrible headache and a major case of déjà vu, she heads home only to discover that five years have passed . . . yet she hasn't aged a day.

Everything else about Kyra's old life is different. Her parents are divorced, her boyfriend, Austin, is in college and dating her best friend, and her dad has changed from an uptight neat-freak to a drunken conspiracy theorist who blames her five-year disappearance on little green men.

Confused and lost, Kyra isn't sure how to move forward unless she uncovers the truth. With Austin gone, she turns to Tyler, Austin's annoying kid brother, who is now seventeen and who she has a sudden undeniable attraction to. As Tyler and Kyra retrace her steps from the fateful night of her disappearance, they discover strange phenomena that no one can explain, and they begin to wonder if Kyra's father is not as crazy as he seems. There are others like her who have been taken . . . and returned. Kyra races to find an explanation and reclaim the life she once had, but what if the life she wants back is not her own?
Taking alien abduction sequences and turning it into a solid and engaging tale, Kimberly Derting is sure branching out with her literature. Yes I still need to check out the final books of her 'Body Finder' and 'The Pledge' series but I knew I just had to check out 'The Taking' and color me surprised because I was attracted due to this gorgeous cover and did not check the synopsis before requesting it on edelweiss.... And I loved the experience of it all!
This is the story of Kyra Agnew. An ordinary girl, with ordinary parents and ordinary aspirations in life. But a fight with her dad on the topic of college and her boyfriend Austin.... bringing in a chance encounter of the 3rd kind with a bright flash of light and bang! she wakes up 5 years later. With no knowledge of her whereabouts, her life in tatters and her age, seemingly the same as when she had disappeared.
Kyra was a beauty to experience. Just like Captain America (don't flame, it is an apt comparison) Kyra is out of her time and the author did a wonderful job of actually illustrating her situation. Everyone has moved on with their lives leaving Kyra behind to reminisce on the past. All she experiences after the mysterious 5 years are shards of a life she should have had..... but it was lost to her. Although she takes everything in her stride and tries with all her might to come out on top.
Tyler on the other hand forms the perfect support for Kyra as she searches for a sense of belonging. He is loyal. He is cheesy and he is determined. He is Austin's younger brother and while the elder one chose to move on. Tyler held on to his long term crush..... And his chemistry with Kyra and their gradual romance was a sight for sore eyes and highly appreciated.
He proves to be the perfect rock for Kyra as she figures out her circumstances and unearth the mystery of what happened to her in those 5 years..... Coupled with a fast paced and engagingly thrilling plot. You just can't expect not to be hooked. The Taking may start out slow but picks up speed in record time and you are enthralled by this sci-fi, mystery-thriller. Definitely eager to see how the mystery unveils i the next book.
"Kimberly Derting serves us an unputdownable sci-fi mystery with fireflies"
Genre : Young Adult, Paranormal, Sci-fi, Romance, Mystery, Thriller
Publisher: Harper Teen
Release Date:
29th April, 2014
Rate:
4
/5 (Really Liked It)
Other Books by the Author(review links):
Buy:
Amazon | Book Depository