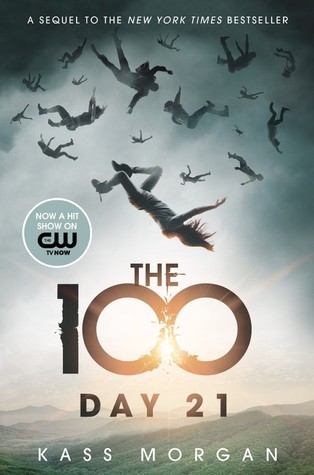 Presenting
The Hundred #2 Day 21 by Kass Morgan
.
Here is the summary of the book:
No one has set foot on Earth in centuries -- until now.
It's been 21 days since the hundred landed on Earth. They're the only humans to set foot on the planet in centuries...or so they thought. Facing an unknown enemy, Wells attempts to keep the group together. Clarke strikes out for Mount Weather, in search of other Colonists, while Bellamy is determined to rescue his sister, no matter the cost. And back on the ship, Glass faces an unthinkable choice between the love of her life and life itself.

In this pulse-pounding sequel to Kass Morgan's The 100, secrets are revealed, beliefs are challenged, and relationships are tested. And the hundred will struggle to survive the only way they can -- together.
So I haven't seen the show yet but read and reviewed The 100, the first book of the series and found it okay (not awesome) and requested Day 21 on netgalley and I must say I found it much more enjoyable. The narrative still follows the four person perspective - Clarke, Wells, Bellamy and Glass. Its still not that amazing but I believe the characters are growing on me.
The plot definitely progresses a bit here. Very predictable but very interesting. The flashbacks were not in all the chapters, something I liked very much. The story behind the Earthborns was touched upon. Clarke and Bellamy, Glass and Luke, and Wells and the Earthborn Sasha. They were quite set in the roles they played. Of course I still didn't really care much about them but yes again I say i found the story this time much more enjoyable.
While I am not too enthusiastic about the series, and there were some frustrating elements with the story along the surprises, i liked them. I observed that this is a series that reads and feels much like a visual adaptation. I understand the show is very much different than the source material so that's saying something. Morgan did a alight better job with the sequel. Although only a few instances in the story were the most important just like they were in the first book but I am very much interested to know how the 100 and the Earthborns are going to handle the people coming down in the next book.
"A much more enjoyable sequel"
Genre :
Young Adult, Post-Apocalyptic, Dystopia, Romance
Publisher:
Little, Brown Books
Release Date: 16th September, 2014
My Copy: publisher and netgalley
Rate:
3
/5 (Liked It)
Other Books in the series (review links):
#1
The 100
Buy:
Amazon
|
Book Depository