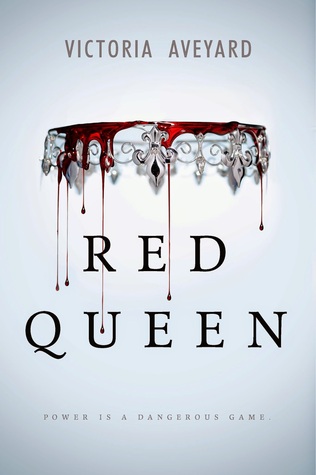 Presenting
Red Queen Trilogy #1 Red Queen by Victoria Aveyard
.
Here is the summary of the book:
Graceling meets The Selection in debut novelist Victoria Aveyard's sweeping tale of seventeen-year-old Mare, a common girl whose once-latent magical power draws her into the dangerous intrigue of the king's palace. Will her power save her or condemn her?

Mare Barrow's world is divided by blood--those with common, Red blood serve the Silver- blooded elite, who are gifted with superhuman abilities. Mare is a Red, scraping by as a thief in a poor, rural village, until a twist of fate throws her in front of the Silver court. Before the king, princes, and all the nobles, she discovers she has an ability of her own.

To cover up this impossibility, the king forces her to play the role of a lost Silver princess and betroths her to one of his own sons. As Mare is drawn further into the Silver world, she risks everything and uses her new position to help the Scarlet Guard--a growing Red rebellion--even as her heart tugs her in an impossible direction. One wrong move can lead to her death, but in the dangerous game she plays, the only certainty is betrayal.
A Dystopia like no other. A fantasy-like world far more technologically advance than imaginable. Dynamic characters. Layers and layers and layers of secrets. A royal power play. Treachery, love and the ultimate betrayal notwithstanding and a world that contains them all and lets them shine all on their own. Red Blood vs. Silver Blood. The conclusion remains to be seen but "Red Queen" marks for an explosive start.
Mare, Maven & Cal. Our protagonist trio. One a red girl from the village and the latter two royal silver Princes. Nothing connects them. The girl waiting out her conscription to the army, a faith that awaits all those who are unable to attain jobs at a certain age. The two princes Cal & Maven, set in their life of comfort, the oldest meant to rule and the youngest meant to live out his days in his brother's shadow. But rebellion brews tall and as fate would have it Mare, Cal & Maven's lives tangle in the most unlikeliest of coincidences, and ensnaring us in their brilliant narrative.
Mare was a stubborn and hardheaded heroine. Being taught since the start that the Silvers get everything and the Reds must labor for their's , she had developed a harsh view of the world. But black and white are not the only shades of life, there is a gray too, she learns that soon. Showcasing the most character growth throughout, Mare ensconced in this game for power and learns to survive against every hurdle this dark game sends her way.
Cal & Maven, not far behind form another section of the lot. Hidden beneath layers of complexity. And they hide quite a few secrets themselves. Heart & Mind do not go together when court politics comes into play and as the story progresses and we peel away layer by layer of their character, their roles change and our understanding of them changes by the minute and each and as every twist & turn plays out.
The question of romance is considered too. It wasn't a focus of the tale but it did play its role where the dark manipulations are concerned. Who pulls which string and who gets the short end of the straw, politics is not made for the light-headed as it soon becomes apparent when the final blow is struck and we are left feeling the stench of betrayal.
This has the bearing of becoming the book of the year. A riveting plot. Dynamically complex characters. A well constructed world. And all of its twists & turns and surprises. It will keep you holding onto the edge of your seats from page one and you will wont to have it any less. 'tis a YA Dystopia I highly recommend. Victoria Aveyard has put forth a smashing debut and I urge you all to read it. This is a must read for all.
"A smashing debut. A riveting page-turner"
Genre :
Young Adult, Dystopia, Paranormal, Romance, High Fantasy
Publisher:
Harper Teen
Release Date: 10th February, 2015
My Copy: publisher and edelweiss
Rate:
5
/5 (It was Amazing)
Buy: Amazon | Book Depository