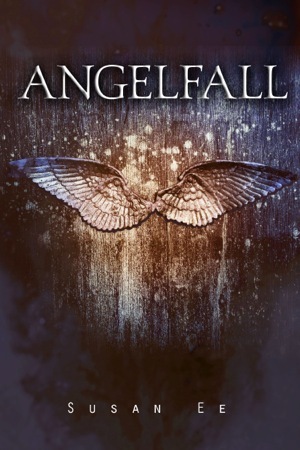 Presenting
Penryn & the End of Days #1 Angelfall by Susan Ee
.
Here is the summary of the book:
It's been six weeks since angels of the apocalypse descended to demolish the modern world. Street gangs rule the day while fear and superstition rule the night. When warrior angels fly away with a helpless little girl, her seventeen-year-old sister Penryn will do anything to get her back.

Anything, including making a deal with an enemy angel.

Raffe is a warrior who lies broken and wingless on the street. After eons of fighting his own battles, he finds himself being rescued from a desperate situation by a half-starved teenage girl.

Traveling through a dark and twisted Northern California, they have only each other to rely on for survival. Together, they journey toward the angels' stronghold in San Francisco where she'll risk everything to rescue her sister and he'll put himself at the mercy of his greatest enemies for the chance to be made whole again.
A wee bit late to the Angelfall bandwagon but i'm finally here. Angels, the hot and hunky winged men. The messengers of God. Angels till date have been a major part of the paranormal genre for a long time but I have only heard and read very few of the lot. Lauren Kate's Fallen, Scott Speer's Immortal City, Becca Fitzpatrick's Hush, Hush to name a few. And all of them had one thing in common, the Angels are the good guys ..... So points for Susan Ee for going against the norm and portraying her Angels as the harbingers of Apocalypse.
The Angels have descended upon mankind and now rule over them monkeys (humans) with a cruel fist. In an antagonistic role ..... who would have thought this to be true .... but it is and we can thank the author for presenting such a fresh point of view. A dark and bleak world to be sure where anything bad that can happen happens. Street gangs and mobs rule over the cowering masses. Black market has found the opportunity to flourish, selling and profiting in dead Angel's parts. And the Angels themselves show no mercy lording above all from the skies.
Now that is not to say that this a perfect story because it is not. Imperfections are plenty but lets take a moment to look at the lead pair ...... the human Penryn and the Angel Raffe. The romance is definitely not insta but developing at a slow and steady rate, even then it wouldn't be considered romance but more of an agreement. Penryn first met Raffe when she is out scavenging with her handicapped sister and psychotic mother. Raffe is getting his wing cut by force by the enemy angels and Penryn decides to help because even if Angels are the enemy she can clearly see Raffe at a disadvantage resulting in the enemy taking her sister, Paige.
Rather than breaking down she resorts to coercing Raffe into helping locate her sister. And Raffe is a dangerous bid to be whole again decides to help. One of the most realistic and kick-ass heroine. Resolute in her actions she doesn't stand much chance against super beings but she is decisive. Another plus, she doesn't let Raffe glamour her impressions. He comes off as a jerk. He has never seen God and he doesn't believe in God but he is definitely no masochist and gives Penryn the respect she deserves. Since Penryn is pretty much the focus of this story so i'm not really a big fan of Raffe right now.
Starts way too slow, picking up the momentum along the way in the middle. Nephilim, low demons, nefarious plots, the degrading conditions of humanity and angels experimenting on the humans. Definitely every bad that is about to come. The author does a marvelous job of keeping her story dark and creepy. The writing is also not that complicated and very easy to understand ..... I would have loved to have seen the reason for the Angel's arrival on Earth and why they attacked the human. The story tells us everything that happens after the attack but what was the reason should be a must to add to too. So I was disappointed in that context. Lets hope we find that out in the coming books.
"Dark and Chilling to the bone, Angelfall shows us a bleaker than thou future of mankind"
Genre : Young Adult, Fantasy, Post-Apocalyptic, Dystopia, Romance
Publisher: Skyscape
Release Date: 28th August, 2012
My Copy: publisher & netgalley
Rate:
4
/5 (Really Like It)
Buy: Amazon | Book Depository