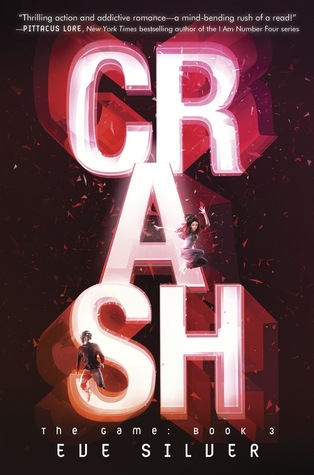 Presenting
The Game #3 Crash by Eve Silver
.
Here is the summary of the book:
A thrilling action/suspense novel for fans of The Fifth Wave about contemporary teens pulled in and out of an alternate reality where battling aliens is more than a game—it's life and death.

Miki's life is falling apart around her. Her dad and best friend are lying in the hospital. The Game is glitching, making missions more frequent and more deadly. And someone close to her is waiting for the right moment to betray her.

Miki feels like she's hanging on by a thread and the only thing keeping her tethered is Jackson's hand in hers. Yet telling him how much she needs him, how much she loves him, feels like the biggest challenge of all. And if Miki really wants the missions to end for everyone, she'll have to let go and be ready to fight when the walls between the Game and reality come crashing down. Because if there's one thing she's learned, it's that she's got a whole lot left to lose.

Crash is the pulse-pounding conclusion to the Game trilogy fans won't want to miss.
An action-packed (surprisingly) emotionally deep final book in the series. The decisive chapter. For Miki, Jackson and their troop against the Drau invaders. With plenty of action, plenty of drama, of mystery, and plenty of emotional overtures, 'Crash' comes crashing down on us weapons ablaze and keeps us invested along for the ride.
Eve Silver keeps the story straight while spinning curveballs at us as we near the end. Answers never expected are unearthed, about the true nature of the game, the committee and their purpose in it all. The truth is a bitter pill to swallow isn't it! But Miki and Jackson soldier on. Devastating to know that your reasons for fighting are even more sinister than naught. Situations are depressing because of Miki's dad and Carly are in the hospital in intensive care. Situations are rock bottom for Miki but kind and sexy Jackson picks her back up.
There wasn't much in the sense of romance but the much we see was sweet and more than enough. The author, as I already stated maintains the flow of the plot. Nothing lacking. Neither the plot, neither the action, neither the pace nor the twists & turns. The characterization was definitely a plus. The despair among the players over all the lives lost to the years they gave to the game can be felt through the pages, tugging at our hearts.
That said, 'Crash' is clearly the final book of the series and as such i'm sad to see it end. Of course the tale is far from over since the book ends on a hopeful open ending. Action-packed and dramatic till the end, I would totally look forward to more books in the series if it is ever a possibility.
"Action-packed attention grabber"
Genre :
Young Adult, Sci-fi, Paranormal, Romance, Dystopia, Survival
Publisher:
Katherine Tegen Books
Release Date: 9th June, 2015
My Copy: publisher and edelweiss
Rate:
5
/5 (It was Amazing)
Books in the series (review links):
#1 Rush
#2 Push
Buy:
Amazon
|
Book Depository