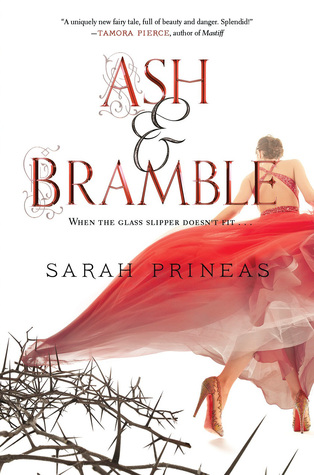 Presenting
Ash & Bramble by Sarah Prineas
.
Here is the summary of the book:
When the glass slipper just doesn't fit…

The tale of Cinderella has been retold countless times. But what you know is not the true story.

Pin has no recollection of who she is or how she got to the Godmother's fortress. She only knows that she is a Seamstress, working day in and out to make ball gowns fit for fairy tales. But she longs to forsake her backbreaking servitude and dares to escape with the brave young Shoemaker.

Pin isn't free for long before she's captured again and forced to live the new life the Godmother chooses for her—a fairy tale story, complete with a charming prince—instead of finding her own happily ever after.

Sarah Prineas's bold fairy tale retelling is a dark and captivating world where swords are more fitting than slippers, young shoemakers are just as striking as princes, and a heroine is more than ready to rescue herself before the clock strikes midnight.
'Happily Ever After' turned on its head. Sarah Prineas' Ash & Bramble brings forth a new twist on a classical favorite fairytale of Cinderella. Look back to the history of fairytale, you'll find that they always had a dark side to them, not like the tuned down kids friendly version we read today. Playing against the all too perfect fantasies of fairytales where the girl gets to marry the Prince.
Stories are bigger than us and help us understand the shape of our lives and the nature of the endings. But what if 'Story' is an intangible entity that demands perfection and fulfillment ..... what would you do when Fairy Godmother turns out to be your worst enemy altogether.
Ash & Bramble follows Seamtress, 'Pin' and Shoemaker named 'Shoe' forced like many others of their professions and skill-sets to work under the dictatoship of the Fairy Godmother and her curiously misshapen overseers. Day by Day they sit at their work manufacturing fine dresses, glass coffins, dancing shoes, bed with layers of mattresses and the pesky little pea within never raising their voices. None of them know who they really are just that a vast 'Nothing' persists in the before. It is a harsh life where you are only kept for continous labor without any interaction or affliations. But Pin and Shoe manage to escape but the horrible reality comes gradually as they are forcefully pitted in a story ..... Just how far does the Godmother's power go ..... Can they ever be free of her now that there is a Prince in this triangle too.
Pin is our Cinderella with a backbone and definitely does not like the color blue at all. She goes out of her way to rebel against what she is meant to do and sometimes comes on too strong with her forceful persona .....but she is determined to gain freedom. She is clearly important to the story but it is Shoe who tugs at out hearts. Forced into mess reluctantly, his personality shines through, Overtly cautious at first, he shows a sound mind dealing with danger and is not afraid to jump into danger for Pin.
The plot grows through many levels to reach this conclusion. Dragging in the beginning. The story grows more and more complex as intricate details are revealed and if you miss out. You can't figure out what is happening. Some facts are just taken at face value, while a number of secondary characters are left underdeveloped. I really pulled through to see what happens to Pin & Shoe, although their romance seemed wooden and did not interest me one bit.
While I enjoyed the plot well enough and found a lot of similarities to the anime 'Princess Tutu' regarding the concept of the 'Story'. Sara Prineas did her best with her ideas, driving her message perfectly across. I just have one more bone to pick on here - on the cover. The publishers have long list of YA books in their name that sport eye-catching gorgeous covers ..... but this one gets only plains thorns & a girl in a modern red dress fleeing with a white background (I understand the reason for the red now)...... Though the shoes were sexy..... Couldn't they have put a little bit of efforts on this ..... Anyways i'd say give this book a chance, you may end up liking or not liking it but it does deserve a once over.
"A fairy tale with a unique darkness"
Genre : Young Adult, Fairytale re-telling, Romance
Publisher: Harper Teen
Release Date: 15th September, 2015
My Copy: publisher & edelweiss
Rate:
3
/5 (Liked It)
Buy: Amazon | Book Depository