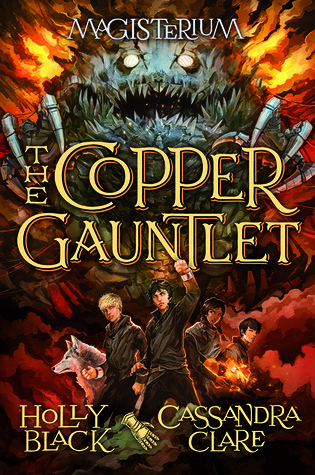 Presenting
Magisterium #2 The Copper Gauntlet by Holly Black & Cassandra Clare.
Here is the summary of the book:
Callum Hunt's summer break isn't like other kids'. His closest companion is a Chaos-ridden wolf, Havoc. His father suspects him of being secretly evil. And, of course, most kids aren't heading back to the magical world of the Magisterium in the fall.

It's not easy for Call . . . and it gets even harder after he checks out his basement and discovers that his dad might be trying to destroy both him and Havoc.

Call escapes to the Magisterium -- but things only intensify there. The Alkahest -- a copper gauntlet capable of separating certain magicians from their magic -- has been stolen. And in their search to discover the culprit, Call and his friends Aaron and Tamara awaken the attention of some very dangerous foes -- and get closer to an even more dangerous truth.

As the mysteries of the Magisterium deepen and widen, bestselling authors Holly Black and Cassandra Clare take readers on an extraordinary journey through one boy's conflict -- and a whole world's fate.
Callum Hunt alongwith his chaos-ridden wolf, Havoc are home for the summer vacations and he is worried after the events of events of the 1st book, that he is evil and suspects that his father does too. In lieu of a suspicious incident Call runs away from and finds that while he was having such a hard time, his friends Tamara and Aaron were together, partying at her grand estate. And Aaron was being celebrated as the Makar.
Having set the stage with The Iron Trial, the sequel looks towards a next year at the Magisterium and explores further the relationship between the three friends. Of course, we don't know what goes on in Aaron or Tamara's minds seeing as Call s the point of focus. It is surreal to see him more sure of himself this time. While he worries what his friends would think of him when his secret comes out and would not want him around anymore. He works hard despite his leg impairment and supports his friends ...... Which is definitely not someone evil would do ...... or so his mind categorizes.
After spending the vacations in luxury, Call, Tamara and Aaron are back for their second year of school. And of course things go spiraling off one after another. Alkahest, a very powerful copper gauntlet has been stolen, that has the power of killing the Makar. While everyone rushes to put blame on his father, Call is sure Alistair stole it to cure him. With one solid mission on hand Call, Tamara, Aaron and tag-along Jasper runaway from school to try and retrieve the Alkahest and prove that Alistair is innocent.
While the first book showed life at the school, The Copper Gauntlet spans out to the magical community. Be it Tamara's intriguing family and their aristocratic ways, magical politics or encounters with members who were once part of the Magisterium. And really not everyone of them have good intentions towards this motley group. Wonder duo Cassandra Clare and Holly Black build on a convincing sequel. Its whats happening outside that matters this time. With all of its action, the twists and turns, The Copper Gauntlet manages to keep our attention. Here's to keeping our fingers crossed for 'The Cosmos Blade'.
"A sequel of action & adventure. Of Magic, its conflicts and the rising war"
Genre :
Young Adult, Paranormal, Urban Fantasy, Adventure, Middle Grade
Publisher:
Scholastic Press
Release Date: 1st September, 2015
My Copy: publisher & edelweiss
Rate:
5
/5 (It was Awesome)
Other Books from Cassandra Clare (I haven't read anything of Holly Black yet):
(review links)
Buy:
Amazon
|
Book Depository