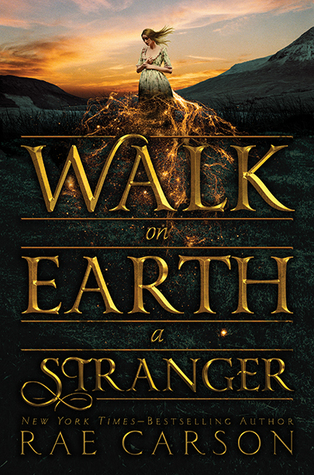 Presenting
The Gold Seer Trilogy #1 Walk on Earth A Stranger by Rae Carson
.
Here is the summary of the book:
Gold is in my blood, in my breath, even in the flecks in my eyes.

Lee Westfall has a strong, loving family. She has a home she loves and a loyal steed. She has a best friend—who might want to be something more.

She also has a secret.

Lee can sense gold in the world around her. Veins deep in the earth. Small nuggets in a stream. Even gold dust caught underneath a fingernail. She has kept her family safe and able to buy provisions, even through the harshest winters. But what would someone do to control a girl with that kind of power? A person might murder for it.

When everything Lee holds dear is ripped away, she flees west to California—where gold has just been discovered. Perhaps this will be the one place a magical girl can be herself. If she survives the journey.

The acclaimed Rae Carson begins a sweeping new trilogy set in Gold Rush-era America, about a young woman with a powerful and dangerous gift.
Set in 1840s Gold Rush America, Walk on Earth A Stranger is the first book of author Rae Carson's new series The Gold Seer Trilogy. It is also my first time reading of this author and suffice it to say, she wows us. The plot is also something I don't really read much of. Gold is an important commodity here but there is a dash of mystery and romance too giving it just the edge. As her bio suggests this is the story of a girl who must make bold and risky choices to get to her destination in a world where views on the female sect are absurd and zany at best.
Leah "Lee" Westfall is our impossible girl ..... In an era where being a woman holds no value, she gets lucky to have parents with liberal minds. She is independent. Being an only child, she is more than adept at doing a man's work. She has a homestead she is very proud of and a best friend Jefferson, who wants to be more .... She can also detect gold. which is an ability she can't do without. But when she looses it all to the avarice of a man, who would only control her for her abilities, she runs away. She decides to leave it all behind and joins a wagon party on the trek to California where gold has been found aplenty. If she has to shed her female sensitivities and become a man, then she would do just that.
Although I expected to see some major twists happening on the journey to the west. Like something related to her gold sensing abilities or her Uncle catching up to her before they reach their destination but the story pretty much had a one track mind, so it felt a little disappointing there But the journey to the west is important and the characters driving the story forward diverse. Really the only reason this book stands tall is because of its cast of characters and the unique characteristics they possess and bring on the journey. Most of all it is a journey of self-discovery for Leah and gives off the perfect vibe of an independent heroine. The romance also took a back seat but there is potential and Carson's words made quite the impression. Hopefully what was missing in the first book would be found in the next book. Recommending this book to any and everyone who love a strong heroine or a bout with history.
"Vibrant and steeped in history with the promise of gold"
Genre : Young Adult, Historical Fiction, Paranormal, Romance
Publisher: Greenwillow Books
Release Date: 22nd September, 2015
My Copy: publisher & edelweiss
Rate:
4
/5 (Really Liked It)
Buy: Amazon | Book Depository