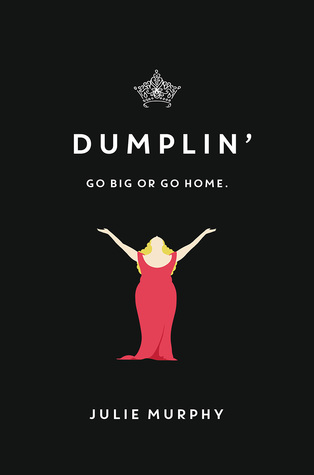 Presenting
Dumplin' by Julie Murphy
.
Here is the summary of the book:
Self-proclaimed fat girl Willowdean Dickson (dubbed "Dumplin'" by her former beauty queen mom) has always been at home in her own skin. Her thoughts on having the ultimate bikini body? Put a bikini on your body. With her all-American beauty best friend, Ellen, by her side, things have always worked…until Will takes a job at Harpy's, the local fast-food joint. There she meets Private School Bo, a hot former jock. Will isn't surprised to find herself attracted to Bo. But she is surprised when he seems to like her back.

Instead of finding new heights of self-assurance in her relationship with Bo, Will starts to doubt herself. So she sets out to take back her confidence by doing the most horrifying thing she can imagine: entering the Miss Clover City beauty pageant—along with several other unlikely candidates—to show the world that she deserves to be up there as much as any twiggy girl does. Along the way, she'll shock the hell out of Clover City—and maybe herself most of all.

With starry Texas nights, red candy suckers, Dolly Parton songs, and a wildly unforgettable heroine—Dumplin' is guaranteed to steal your heart.
Go big or go home. Dumplin' by Julie Murphy tells the story of the ever realistic self-proclaimed fat girl Willowdean Dickson as she battles the effervescent years of her teen life, Ex-beauty Queen mom, perfect figured classmates and her all-American best friend are things she knows how to handle but realizing that the guy she had the hots for likes her back, Now that makes her doubt. At the end of it its the ups and downs of everyday life and how our resident Dumplin' deals with her share.
I'll be honest her, I kinda liked as well as hated Willowdean throughout the book. She is frank, confident, bold and very much at home in her fat physique. A no-nonsence girl who goes through like everyone else around her and has her own troubles to tackle. All the good points aside, she casts a rather intimidating personality. She is also pretty judgmental all things considered. She had a lot of abandonment issues, courtesy of her over-bearing mom but how she deals with that hurts everyone around her.
I was expecting her to be bit more mature in the way she dealt with life and not be so belligerent but she had the capacity to make amends and learns from her mistakes so it wasn't all that bad but her attitude bothered me a lot. She was also so hard on herself. Her smoking hot co-worker Bo likes her back and she immediately starts doubting her worth and what people would say if they saw them together.
I liked the romance a lot but hated the triangle. Its not right for Willowdean to keep stringing two guys around and hope no one finds out. While I liked that the romance didn't lord over the whole story but played a big part for 'Will' to start doubting herself but her daily life also played a part. Her mother and her best friend Ellen also played important roles. I loved that she was as normal and flawed as they come. Really irritated me a lot too bur at the end of it she deals with all the problems of self-confidence in body and mind and the sense of belonging and probable many other things that teens face all the time ..... Just her's come in a much much bigger shade is all.
"A good coming of age story for everyone should read no matter their size"
Genre : Young Adult, Contemporary, Romance
Publisher: Balzer+Bray
Release Date: 15th September, 2015
My Copy: bought (ebook)
Rate:
4
/5 (Really Liked It)
Buy: Amazon | Book Depository