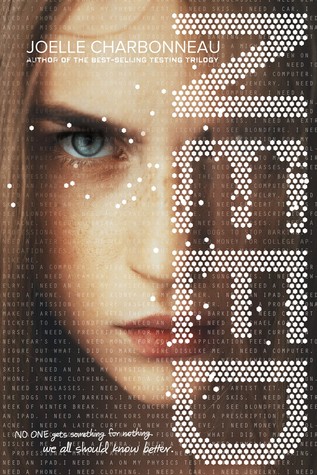 Presenting
Need by Joelle Charbonneau
.
Here is the summary of the book:
What do you really need?

One by one, the teens in Nottawa, Wisconsin, join the newest, hottest networking site and answer one question: What do you need? A new iPhone? Backstage passes to a concert? In exchange for a seemingly minor task, the NEED site will fulfill your request. Everyone is doing it. So why shouldn't you?

Kaylee Dunham knows what she needs—a kidney for her sick brother. She doesn't believe a social networking site can help, but it couldn't hurt to try.

Or could it?

After making her request, Kaylee starts to realize the price that will have to be paid for her need to be met. The demands the site makes on users in exchange for their desires are escalating, and so is the body count. Will Kaylee be able to unravel the mystery of who created the NEED network before it destroys them all?
What do you NEED? Putting a spin on the negative impact of social media, NEED by Joelle Charbonneau does a good job of highlighting just what social media is capable of doing, if used in the worst way possible. And just how far the human race would go to get what they want even if the means employed are unethical or even dangerous. Following through the perspectives of a plethora of students of Nottawa High School and secretive social media site Need.com.
While I appreciate the point the author is trying to make but the plot is rather predictable and the severity of the situation dampened by the inclusion of so many point of views. If a few perspectives had been done away, then maybe I could have been invested in what was happening to the characters. Also it takes attention away from the core plot of Kaylee Dunham looking for a kidney donor for her brother and the drama surrounding her life.
Social networking is all the rage of this modern electronic era and i'm pretty certain we all have come across schemes and drives, which ask for a finite number of invites referred by an entrant to be eligible for prizes ranging from expensive bags, mobile phones, laptops, gaming consoles and the like .... I certainly came across many in Facebook. Need.com serves on the same principle setting the task of invites to fulfill their Need requests. Tasks later turning shady and life threatening, to attain like new gadgets, good marks without studying for a particular subject, an extended day of holiday, date for prom or break up a couple.
NEED does try to set its pace but simply due to cause and effect of such a big cast, the narrative doesn't make such a strong impression as the synopsis suggests. Mystery and the thriller were much appreciated but as I already mentioned the book isn't able to exert as much pressure s the summary of the book would suggest. This is my first book from Charbonneau but it kinda disappointed me snce I have heard much about about her, Good effort by the author.
"The vows and vices of social networking"
Genre : Young Adult, Contemporary, Mystery, Thriller
Publisher: HMH Books for Young Readers
Release Date: 3rd November, 2015
My Copy: publisher & netgalley
Rate:
3
/5 (Liked It)
Buy: Amazon | Book Depository