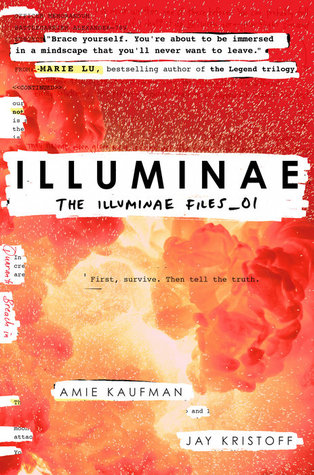 Presenting
The Illuminae Files #1 Illuminae by Amie Kaufman & Jay Kristoff
.
Here is the summary of the book:
This morning, Kady thought breaking up with Ezra was the hardest thing she'd have to do.

This afternoon, her planet was invaded.

The year is 2575, and two rival megacorporations are at war over a planet that's little more than an ice-covered speck at the edge of the universe. Too bad nobody thought to warn the people living on it. With enemy fire raining down on them, Kady and Ezra—who are barely even talking to each other—are forced to fight their way onto an evacuating fleet, with an enemy warship in hot pursuit.

But their problems are just getting started. A deadly plague has broken out and is mutating, with terrifying results; the fleet's AI, which should be protecting them, may actually be their enemy; and nobody in charge will say what's really going on. As Kady hacks into a tangled web of data to find the truth, it's clear only one person can help her bring it all to light: the ex-boyfriend she swore she'd never speak to again.

Told through a fascinating dossier of hacked documents—including emails, schematics, military files, IMs, medical reports, interviews, and more—Illuminae is the first book in a heart-stopping, high-octane trilogy about lives interrupted, the price of truth, and the courage of everyday heroes.
Review:
ASDFGHJKL ....... WOW ..... FREX-ING AMAZING. This book proved to be a supernova of awesomeness and I am just about to state to you all ..... Just why you need this book. Because you really really need this book. - in Pros and Cons .....
Pros:-
Amie Kaufaman and Jay Kristoff. Those name alone warrant a buy. Kaufman's Starbound series (with Megan Spooner) and Kristoff's Lotus War books are just simply brillaint.
The narrative is wholly in Epistolary format - Letters, IMs, emails and official reports and found transcripts.
Its a war between the mega-corporations over a planet.
Stunning and graphic world building. Like its happening right infront of us and we are a part of it.
Its a high speed chase across the silent universe and the love story of Kady and Ezra desperately fighting for survival across two different space vessels.
The style of presentation also scores pints in the pursuit of buying the tome.
Kady is a genius hacker. She is antisocial. Doesn't work well with groups. Fierce, spunky and a spitfire are some of the points to describe her.
Ezra was a sweetheart. Cocky, self-confident, athletic and very very goofy he may be but he also carries a big secret that brings him down. But points to him, he is resilient.
Even if he and Kady aren't talking at the beginning and they are on two different evacuation ships, he would keep trying to reconnect with her.
Nothing like world destruction to get your priorities straight and keep your near and dear ones closer.
Both Kady and Ezra show such tremendous character growth as the page keep turning.
Sentient AI gone crazy. "Am I Not Merciful"
A killer contaminant turning people into mindless zombies. Ax-ing them off one by one.
The ticking countdown of the approaching enemy vessel, Lincoln.
The military as always trying yo keep a lid on things. In the misguided attempt to keep the peace.
Heartbreaking and heart-stopping twists and turns that keep us on the edge of our seats. As we sift through the pages at the speed of light.
The raw data more than enough highlighting their dire circumstances.
And that perfect ..... perfect finale that sets things in motion for the sequel.
Cons:-
Really not much of a con if you think about how the narrative is styled.
Come to think I didn't really find a single things bad about this book.


Closing One-liner:-


"Engrossing. Immersive. Action paced. Heart Pounding"